Medarot 9 Translation 3DS
From GameBrew
This is a fan tranlation English patch for Medarot 9 (RoKusho Ver. + Metabee Ver.), a robot battle RPG released in 2015 on the 3DS.
Installation
Game information
Japanese title
メダロット9 クワガタVer.
メダロット9 カブトVer.
Aliases
Medarot 9: Kuwagata Ver.
Medarot 9 Kabuto Ver.
English title
Medarot 9 RoKusho Ver.
Medarot 9 Metabee Ver.
Option 1 via LumaFS:
Copy the romfs folder containing the patch files into SD:/luma/titles/<titleid>/ (create the folders if they do not exist).

Medabee Ver. - 0004000000174E00
Rokusho Ver. - 0004000000174F00

Make sure game patching is enabled in your luma settings (hold Select on boot).

(Extra Notes) LumaFS will only work for the base game files.
Update files need to be installed with the update cia (not tested).
Follow this LumaFS Guide if you're having issues.
Option 2 via CIA:
Decrypt then Extract CIA file.
Replace files with in the romfs + exefs.
Rebuild and install.
Screenshots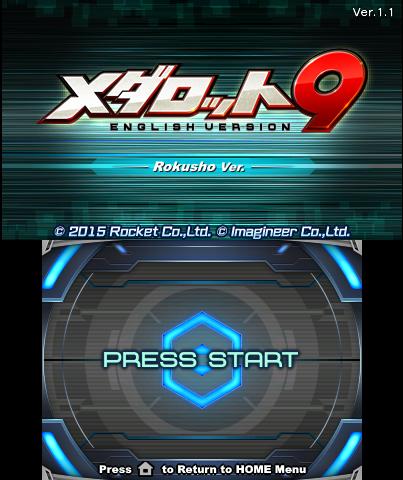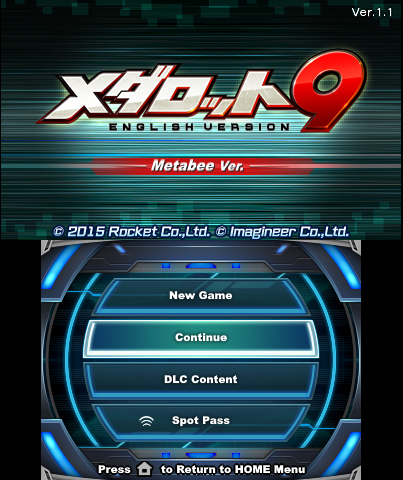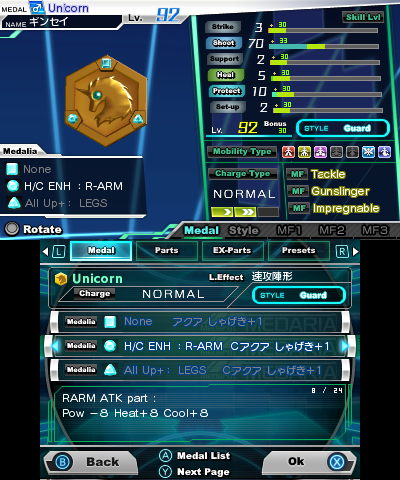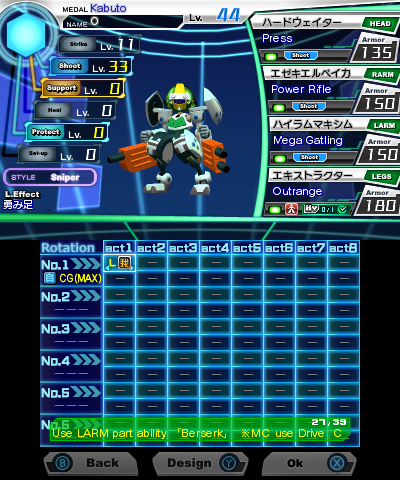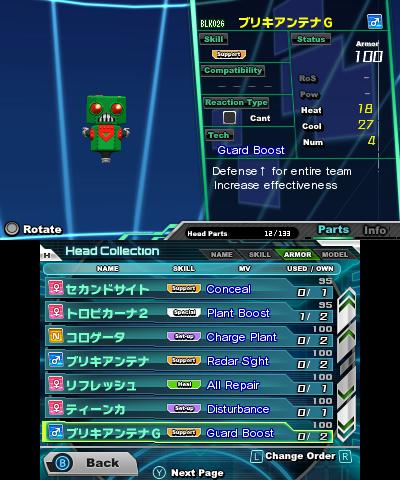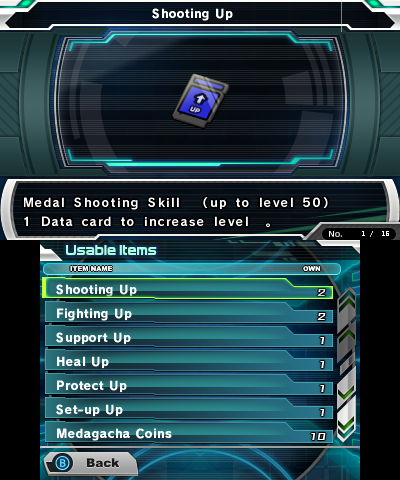 Female Protagonist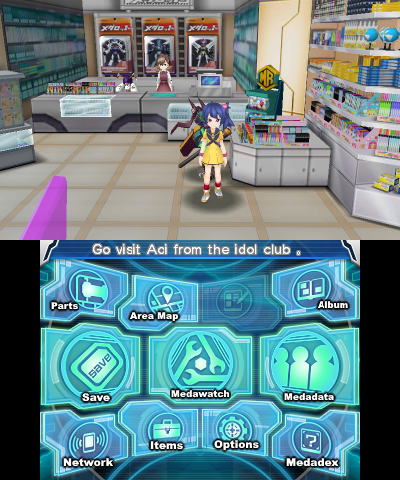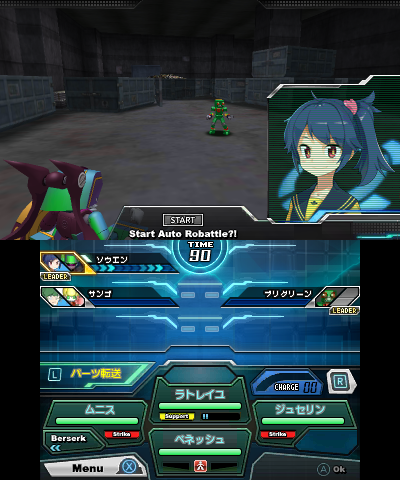 Changelog
1.1.1
Completed Battle Events.
Fixed more typos/bug errors.
More ui text display.
1.1.0
Fixed block road quest.
Fixed Missing Medabots in some fights.
Corrected Typo's in some part areas.
1.0.9
Part information was added.
items were added no key items).
1.0.8
Fixed Medalias (names and other things were updated as well).
Fixed some more progress hints.
Fixed Medabot names.
Medapart names have been completed.
1.0.7
Medabot Names finished.
Re-did medalia info entirely (should me more or less accurate).
Fixed images/translations.
Fixed progress hints and some changes (filled empty space to show the full length).
Fixed more memo text going off screen.
Fixed multiplayer buttons.
Corrected some shop menus and titles.
Rotation system is being worked on (partially done).
1.0.6
Multiplayer text/images.
Medabot Names 50% or so (used this list for a general "fimiliarity" of names).
More Fixed text/image corrections.
Tons of popup robattle/question text.
Memo note/ progress hints have been fixed.
New stats legend:

RoS - Hit (Rate of Success).
PoW - Power.
Heat - Start an Action.
Cool - Returning from Action.
Mob - Eva/Evasion.
Tech - Move (Abilities).
Num - Number of Uses.
Fight - Fight/Strike (Melee).
Shot - Shoot/Shooting (Ranged).
End (during battle reaction) - Endure (Receiving without DEV/EVA).
Eva (during battle reaction) - Evasion (Chance to avoid DMG).
Def (during battle reaction) - Defense (Reduce DMG).
1.0.5
Fixed a game breaking bug.
In battle effects were also put into this release.
1.0.4
Leader Effects and Descriptions (were redone since we figured out ways of expanding the text lines and added some custom names for better understanding).
Medalia partially fragmented (stills need plenty of fixing & be revised).
Translated more Images & overhauled previous images.
Terrain types have been finalized.
Memo sections.
Majority of Quest hints.
Medaforce/Medal Names.
Attacking/Ability Names.
Notes:

Endure is now End; Evade is now Eva (these changes where so the battle options all looked similar).
Fill/Filling is now Heat/Heating (as it's suppose to be).
Heating during an action and cooling is after an action.

Terrain type Changes:

T - Tree (Forest).
R - Rock (Mountain).
S - Sand (Beach).
F - Flat (Everywhere else).
W - River/Sea (Water) dual use (River above water/Sea below water).
A - Air (Sky).
I - Ice (Snow).
U - Urban (Indoor/Basement buildings).
C - Cyber (No idea yet).
1.0.3
Altered font for (testing) visability.
Translated more through the game.
Fixed translation wording.
Text alignments.
1.0.2
Specific names where redone (to better match their purpose or spacing issues).
Images where redone (Better clarity).
More battles images were finished.
Some more message text translated.
All warp map names (not all finalized).
Fixed some broken links between menus changes.
1.0.1
Some game breaking issues were fixed.
Map names added.
More menu images added.
1.0.0
Majority of menus are translated.
Some other interfaces have been changed.
Credit
Sotaeko - Translator, Editor, Community Management.
Omnija - Translator, Graphic Design, ROM Hacking.
External links