Mario VS Luigi
From GameBrew
Mario VS Luigi
General
Author
Exterminator, 4n4bol
Last Updated
2010/03/23
Type
Action
Version
1.0
License
Mixed
Links
Download
Website
Mario VS Luigi is a DS homebrew fighting game that puts a duel between Mario and Luigi, inspired by Mario & Luigi: Journey to the Center of Bowser.
User guide
Fight against your opponent with an assortment of weapons and objects, every items has different effects and powers.
Choose an option for each turn. After you made the decision, it passes to the opponent, the game will continue until one of the character's life reaches 0, at which point loses consciousness and no longer able to continue the fight.
Controls
Menu:
D-Pad - Select option (two-player mode and credits), Pick battle scenario
A - Confirm
B - Back
In game (Player 1 - Mario):
Left/Right - Select option
Up/Down - Select in the object menu
Down - Go back
L - Confirm, Attack
L (hold) - Special attack/thrust, Resist/ecape from Luigi's Special attack
In game (Player 2 - Luigi):
Y/A - Select option
X/B - Select in the object menu
B - Go back
R - Confirm, Attack
R (repeatly) - Draw Mario close
Screenshots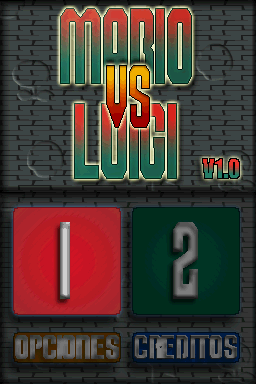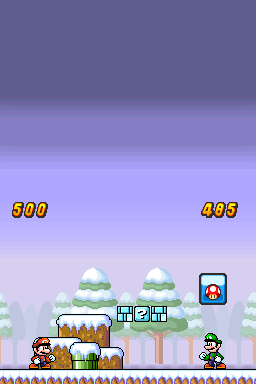 Compatibility
Tested on:
M3 DS Real (firmware 4.7h)
iTouchDS (firmware 3.7g)
Games n 'Music (DLDI v2 with firmware 1.3)
DSONEi (firmware 1.0 SP1)
R4 DS (firmware 1.31)
NDSTT (unofficial firmware 1.17a12)

External links