MarioBroDS
From GameBrew - a wiki dedicated to Video Game Homebrew.
Mario BroDS
General
Author(s)
adree (gbadree)
Type
Platform
Version
2006
Licence
Mixed
Links
Download
Website

Mario BroDS is a handeld simulator of MarioBros Game&Watch for Nintendo DS. The game is written using PALib and most of the graphics are taken from a port that MADrigal made years ago for Windows.
Features
Identical graphics and sounds to Game & Watch.
2 levels (easy and difficult).
Gameplay requires holding the console vertically.
Installation
Three versions are provided for different users:
MarioBroDS.nds - For emulators, Wireless Multiboot or slot one flashcard (like DS Xtreme or Ninja DS).
MarioBroDS.gba.nds - For GBA flashcard (e.g. G6/M3, Supercard or EZ4).
MarioBroDS.gba.ico - For G6 users only.
Download and extract file.
DLDI patch it and copy it to the root directory of the card.
User guide
Mario is back in action with his brother Luigi, working in a bottling plant, loading cases on a belt conveyor. The game is played on two screen, The cases loaded on the right screen are carried to the left screen, and vice versa.
Points:
Each case loaded on a conveyor gets 1 point.
Each truck loaded with 8 cases gets 10 points.
Maximum displayed score is 999 points.
Miss:
When a case is dropped, the foreman gets angry.
One miss is scored. 3 misses and game ends.
Bonus:
When the score reaches 300 points, all misses are cancelled.
If there are no misses when 300 points are reached, game goes into CHANCE TIME.
Score flashes and all points are awarded at double value until a MISS is made.
Controls
Up/Down - Control Mario
Left/Right - Control Luigi
A - Start game on easy
B - Start game on hard
Screenshots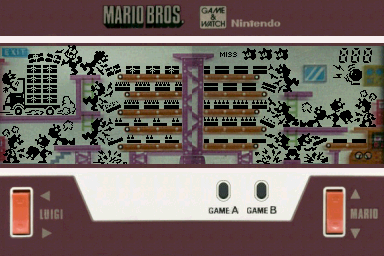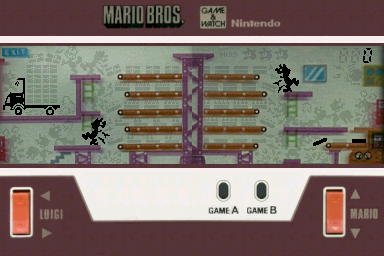 Compatibility
Tested on R4DS R4 Wood (firmware v1.28).
External links