Mandelbrots DS
From GameBrew
Mandelbrots
General
Author
davr
Last Updated
2008/05/05
Type
Math
Version
0.6
License
Mixed
Links
Download
Website
The Mandelbrot set is a mathematical set of points whose boundary is a distinctive and easily recognizable two-dimensional fractal shape.
Features
Zoom by dragging a rectangle.
Save screenshot to PNG.
Panning, Zooming, Adjust Iterations by buttons.
14 different color palettes.
Installation
Download and extract file.
DLDI patch .nds file and copy it to the root directory of the card.
User guide
When you are zoomed below 175x, it will use 32 bit (1.17.14) fixed point numbers, which greatly improves speed. However, if zoom beyond that, then it switches back to 64 bit (1.35.28), which provides greater precision.
Controls
D-Pad - Adjust offset
X/Y - Zoom
A - Redraw
B - Change color
Start - Save PNG to CF/SD
Select - Reset zoom
Drag a rectangle - Zoom to area
L/R - Change iterations
Screenshots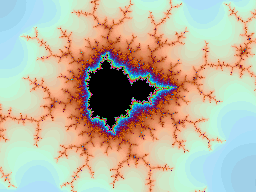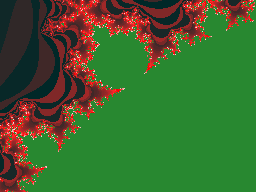 Changelog
r06
r05
Minor optimizations and quality improvements.
External links