MENUdo
From GameBrew
MENUdo is a free homebrew operating system for the Nintendo DS, designed to work on any flashcard. Created by Filipino programmer Soulanger, MENUdo aims to provide a new experience for the Nintendo DS, including integrated features such as real-time skinning, homebrew/ROM loading, MOD format media playback, note-taking with various keyboards, picture drawing with pressure sensitivity (on the DS Lite), and more.
With MENUdo, you can do more things with your Nintendo DS than you ever imagined possible. All you need is a flashcard such as an AceKard, R4, M3 Real, or Supercard. Compatibility is reported to be 100% with cards, however ROM loading requires an AKAIO or YSMenu-compatible flashcard.
ClouDS is the new name for MenuDO since it began its development again on the 22nd January 2011.
Features
mPlayer(Media Player).
A card menu replacement.
Versatile skinning.
Ability to add custom utilities to firmware.
Energy Saving modes.
Random themes at start up.
Boot to location in firmware where you last were.
Records when you started your last game.
Flick style interface.
Set a password on the NDS.
Boot Up Commands.
Automatic Log-In to WiFi(When servers are up).
Gamercards(When servers are up).
Check inbox(When servers are up).
Twitter Integration.
Facebook Integration.
Multitasking.
Built in notepad.
Built in doodle pad.
Torch.
Recipe Maker(Theme Customize from DS).
Installation
Download and extract file, use the version according to flashcard you own (or use the Generic version if it is not listed).
DLDI patch it and copy all to the root directory of the card.
For custom themes, unzip the theme pack bundle and copy the folder of the theme you want to use into /_menudo/themes/.
Then, access the theme switcher in MENUdo by pressing L and selecting the theme switcher icon to change your theme.
User guide
MenuDO is a replacement OS (Gaming OS, as SoulAnger the developer of menuDO calls it). The firmware contains many features never seen on a flashcart before. The firmware allows you to load commercial ROMs using a loader of their flashcart. At the moment only a few loaders are supported.
One of menuDO's main features is the style of themes that can be made, it is very versatile. Addon features (a paint tool and media player) are also available:
Supported Formats
NDS
BMP
SMF (Spinal Media Format)
XM
MOD (libmikmod)

FAQ
Q. I installed this hot little theme but all I get is a black screen?
Some themes cause menuDO to hang try rebooting.
If you still get a freeze please delete the theme from your microSD card.
Q. How do I change themes?
In multitasking/shrink mode (press L), click the little screen icon on the left.
Find the skin you want and press the button on the right side of your DS that has the letter A written on it.
Q. I have an Acekard and when I load a game is just loads up the AKAIO menu.Why?
Use acekard-core-12211.zip instead of acekard.zip.
Delete all your akAIO files (you can back up your themes and global settings). Let it overwrite.
Q. Does MENUdo have a 24/7 Customer Service?
Server: irc2.gbatemp.net
Port: 5190
Channel: gamenow.asia


Q. Will my iSMART MM/iPLAYER/EX4i/SCDS2 ever load ROMs?
Highly doubtful as they have no external rom loader.
Screenshots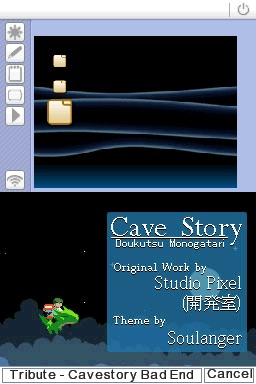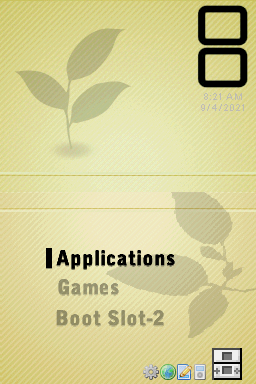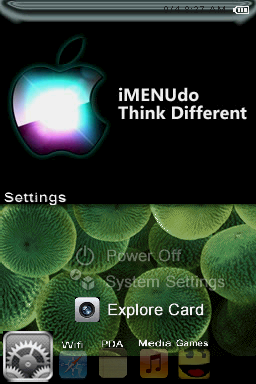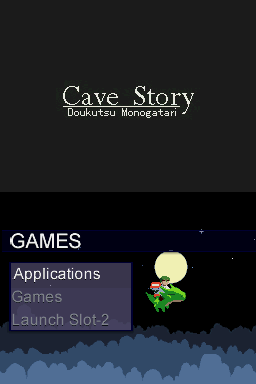 Media
MENUdo Footage - Tempcast Tie-In (Updated) (soulanger)

MENUdo XMBlite betabuild (soulanger)

External links