Lunar Docking 3DS
From GameBrew
Lunar Docking
General
Author
WLS
Last Updated
2021/12/30
Type
Action
Version
2021
License
Mixed
Links
Download
Website
This is a remake of a futuristic action game Lunar Docking released for the Commodore 16/Plus4 by Tynesoft Computer Software in 1985.
It has been rewritten with GB-Studio, available on GameBoy, GameBoy Color and 3DS.
Installation
Available in CIA format for the Nintendo 3DS virtual console.
Install the .cia file with a title manager of your choice.
User guide
Gameplay
The Space Shuttle Columbia leaves base loaded with three uranium fuel packs to refuel the rocket Argon suspended in high orbit.
The shuttle is unable to reach a high altitude to dock up with Argon, so an Astronaut has to carry each of the three packs left by the shuttle from low earth orbit through space to the waiting rocket.
Space travel can be very hazardous so watch out for those asteroids, satellites as your jet pack propels you through space on the way to refuelling your rocket.
On completing the docking of all 3 of the uranium packs on board Aegon it will blast off to a new screen, with an increased degree of difficulty.
There are 3 levels automatically selected for you as you penetrate through the game.
Scoring and play tips
Points are scored as follows:
2 points for collecting a fuel pack.
2 points for placing the pack in the Fuel Bay of the Rocket.
10 points for launching the Argon Plus one extra Life.
When the Astronaut reaches the rocket Argon fuel bays, he must place his pack into a vacant fuel bay without going into the space himself otherwise he may damage his cargo and lose a Life.
Note: Although the original C16/Plus4 cassette cover was named Lunar Docking the game name on the screen was Lunar Landing.
Controls
Start - Start game, Pause
Left/Right - Move
A - Accept
Screenshots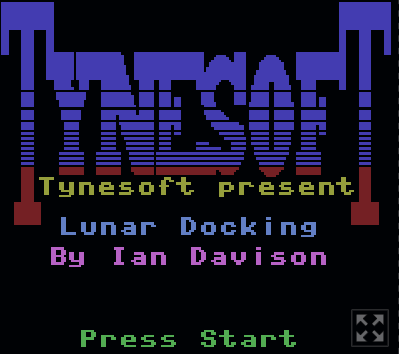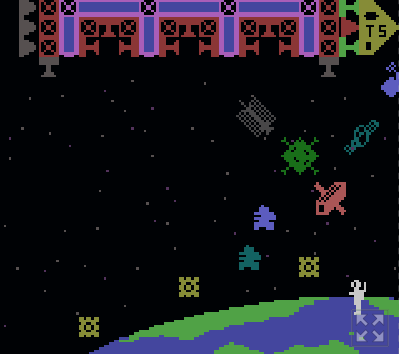 Credits
Original version: Ian Davison - Tynesoft Computer Software. Commodore 16/Plus4, 1985.
Created by László Rajcsányi with GB-Studio 2.0.0 beta5.
External links