Lazy Man 3DS Theme Generator
From GameBrew
Lazy Man 3DS Theme Generator
General
Author
Jayenkai
Last Updated
2018/12/19
Type
Theme Tools
Version
20181218
License
Mixed
Links
Download
Website
Lazy Man's 3DS Theme Generator is a tool that can render images into workable custom 3DS themes, which then can be used a base for creating your custom theme.
Note: This is not a does-everything program. It simplifies a lot of the editing process, but you'll still need to use Usagi and LoopingAudioConverter to finish the job.
User guide
How to create 3DS custom theme
Using Lazy Man's 3DS Theme Generator:
Converting Music:
Editing the theme:
From there, zip all the files (except for the ext/ folder) into a neat little MyTheme.zip pack, and copy that over to your 3DS for testing.
Screenshots
Lazy Man 3DS Theme Generator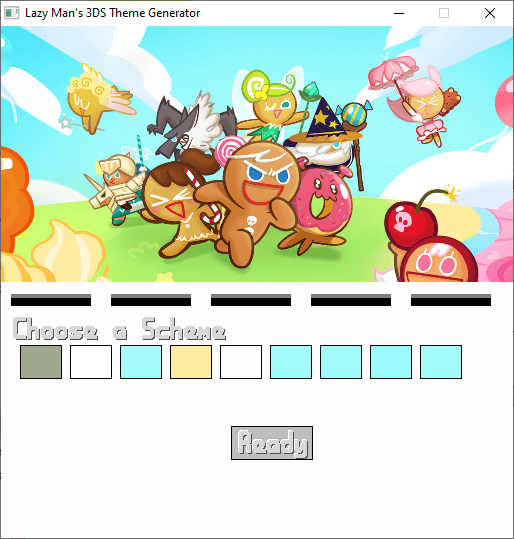 On Usagi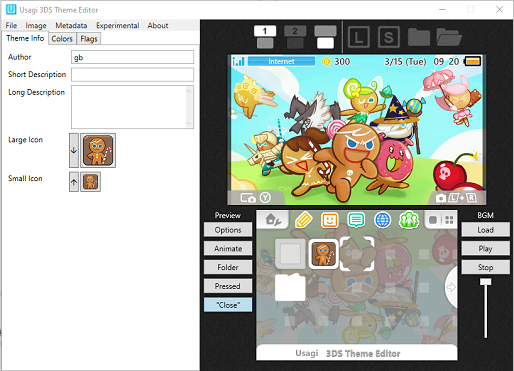 Credits
Created by Jayenkai - AGameAWeek.com during the week of Dec 17th, 2018.
Written in BlitzMax for Windows.
Uses DSDecmp.exe (in the Important folder) for decompressing and recompressing the theme file.
Also uses Bandwidth Bandless BRK font by Brian Kent.
External links