Labyrinth 3D
From GameBrew
Labyrinth 3D
General
Author
Rinnegatamante
Last Updated
2016/02/11
Type
Puzzle
Version
1.2
License
Mixed
Links
Download
Website
Labyrinth 3D is one of the first 3D homebrew which uses RayCast3D Engine. It can be considered as a showcase for how powerful and simple to use RayCast3D engine is.
Labyrinths are generated through Primm's Algorithm so you'll have infinite random mazes to solve.
Installation
Available in 3DSX and CIA formats.
User guide
Labyrinth 3D is, as the title says, a game where you have to find the exit from the labyrinth you're in.
It supports different map sizes and you'll have some scrolls according to map size.
These scrolls can be used to "mark" a wall of the labyrinth so you can see where you already went (after marking a wall, it will became golden).
Every generated maze will provide a seed so you can share these labyrinths with others and play them through the voice "Start game with Seed".
Controls
D-Pad/Circle Stick = Move Player/Camera
R/L - Strafe
A - Mark a block with a scroll
Y - Take a screenshot
Start - Pause Game
Select - Enable/Disable stereoscopic 3D
Screenshots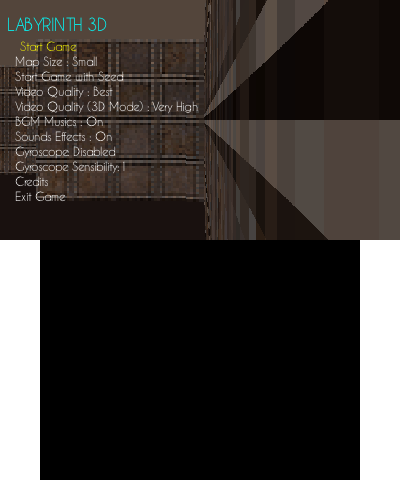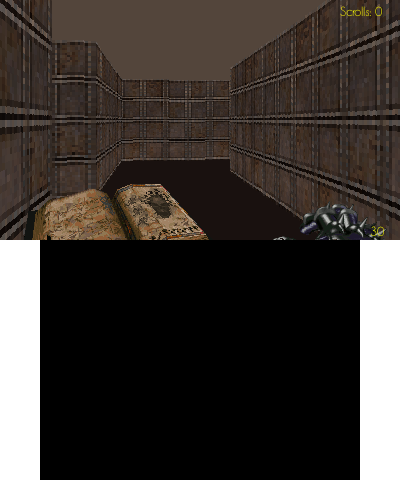 Credits
Misledz for RayCast3D, Lua Player Plus and Labyrinth 3D logos.
ihaveamac for testing the game.
ETTiNGRiNDER for the player sprite.
aliashparow for the main menu BGM.
soundjay.com for SFX sounds.
oddcast.com for the synthetic voices used in gameboot.
External links