JNKPlat
From GameBrew
JNKPlat 08 is a simple puzzle platform game for the NDS. Get to the exit to complete each level. According to the developer, this game is more a puzzle game than it is a platformer.
Features
Extra stuff.
Menu tweak.
6 packs included, 67 levels total.
Installation
Note: Download contains v0.8 Happy Ending, Dungeon Escape and Christmas versions.
Complete with DLDI version and non-DLDI version. (.sc.nds/.ds.gba/.nds for each).
Place it in the root, DLDI it if necessary, and add the JNKPlat folder for your saves.
User guide
The game has many grid-based things that are leftovers from that style. Most noticable is Platdude's very specific Jump. One up, three across.
The Blue Circles (Super Precious Gems) are collectable. You don't need them, but there's a total on the main menu. Get 'em all, and you get to say: I got 'em all!
Level Packs
Level packs can contain many many levels, but each level must be played in the order layed out in the pack.
No saves. If you die 3 times, you're right back at the start.
The Editor
Tap the middle icon on the titlescreen to enter the editor.
Draw a level.
Hold a trigger, and a Wipe/Quit and Test button appear at the bottom.
If you test a level, and subsequently complete it, you can then Save it from the same Trigger-based menu.
Additional notes
You can only save a level if you've managed to complete it. You don't need all the gems, but you do need to get to the exit.
The level will be added as a simple line of ascii text, to the bottom of the /JNKPlat/MyLevs.lev file on your card (assuming you're using the DLDI version, and have added the JNKPlat folder to the root). Each line is it's own level. Feel free to copy+paste these lines to build up your own little level packs.
More information can be found from the discussion thread.
Controls
B - Dangle from hooks/vines/red floors, Drag red boxes
Y/A - Jump left and right respectively
If you really dislike it, you can switch to single button jump on the main menu, but is not recommended. Some things happen too quickly to stop and turn around.
Screenshots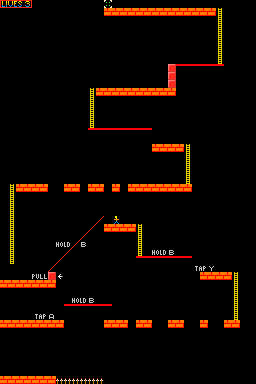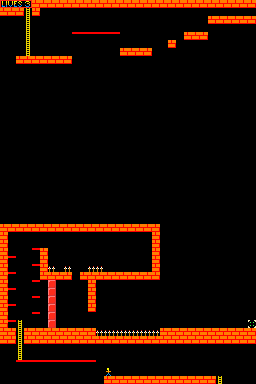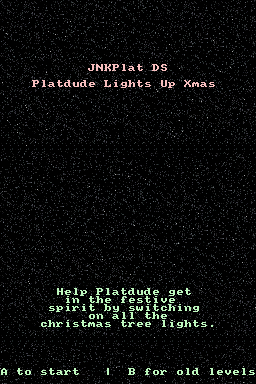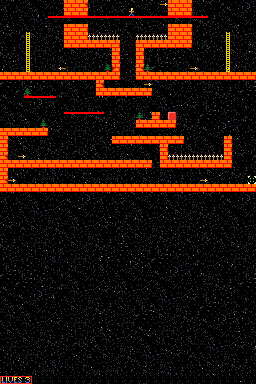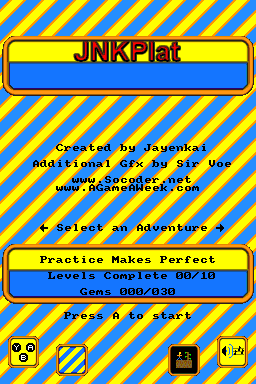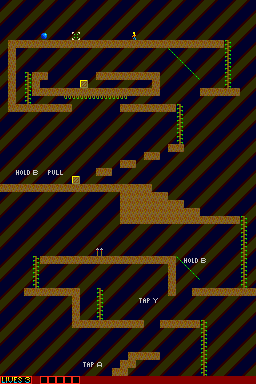 Changelog
20080902
Extra stuff, menu tweak, editor fixes.
Levels-6 packs included, 67 levels total.
If you get halfway through a level pack (and the middle's at least 5 levels in!) you'll be able to restart from the Midway by hitting B on the menu, instead of A.
Folk who don't have DLDI will be able to play.. Woot! But they won't be able to save. Awww.
Those with DLDI should stick the JNKPLAT/ directory into their root so they can save.
Blocks are listed in the Level Editor Readme file that's now included.
External links