Insectoid Defense 3DS
From GameBrew
Insectoid Defense
General
Author
Stephen Gowen (sgowen)
Last Updated
2015/09/01
Type
Strategy
Version
1.0
License
Mixed
Links
Download
Website
Source
Insectoid Defense is a Sci-Fi Tower Defense homebrew game for the NDS. It is also available for Android, iOS, and Windows Phone 8.
Features
7 Towers with upgrades.
13 Enemy types.
10 Levels.
3 Difficulty Modes.
Play up to 3x speed.
Infinite Gameplay.
Installation
Available in 3DSX/SMDH format.
Copy the folder containing .3dsx and .smdh to the the 3ds folder on your SD card. Run it with the Homebrew Launcher.
User guide
In the distant future, living conditions on Earth are rapidly declining. With not much time left, your team has been tasked with leading an expedition to find a new home.
After finding what appeared to be a suitable planet, its inhabitants are now pursuing your star cruiser on the trip home. For now we will call them the Insectoids, a violent alien race. Waves of them are approaching from all directions, and the only way to defend the ship is to deploy your Towers.
An important aspect of Insectoid Defense is using towers both individually and together strategically. Many other Tower Defense games can be broken simply by spamming the "best" Tower for as long as possible, but what you will find here is a much more fulfilling and challenging experience.
If you have been searching for a fresh Tower Defense experience, then look no further.
Screenshots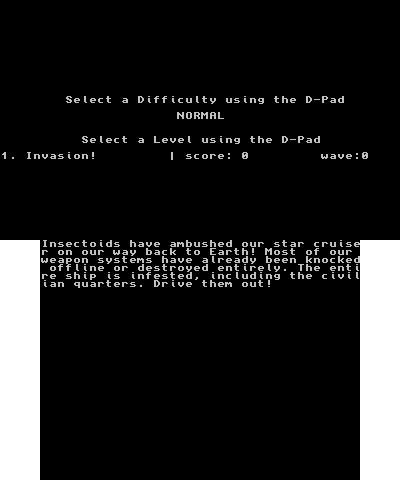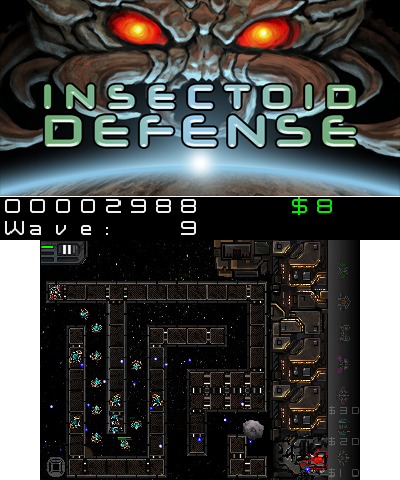 Credits
Thanks goes to Silviu Ploisteanu for a majority of the graphics used in this game.
External links