Hermes 3DS
From GameBrew
Hermes
General
Author
Retroguru, nop90
Last Updated
2017/07/29
Type
Platform
Version
1.02
License
Mixed
Links
Download
Website
Hermes is an extraordinary Jump'n' Run game with plenty of bad taste humour. If you feel offended by crude and dirty humour you may run away now. The game also features pixel violence and promotes the consumption of meat. If you are a hardcore vegetarian, you might very much dislike the game or just have a good laugh.
It was presented at Revision 2017 in Saarbrucken (Game category, 3rd place).
Features
Hand set pixels.
Amiga chiptunes.
Score tracking.
32 levels.
Hidden warp zones.
Boss fight.
Installation
Available in CIA and 3DSX/SMDH formats. All the resources are included in the executable using romfs.
The game creates a Hermes subfolder inside the 3ds folder if doesn't exist.
User guide
Our hero, known to his friends as Hermes, lives in France, the country of love which is also known for its exquisite cuisine.
One day Hermes had an appetite for grilled chicken.
Certainly a man's man like Hermes, wouldn't go to the supermarket for frozen chicken. No! He's going to slaughter his own farm-raised free range chicken, but this chicken has a mind of his own.
This is where our story starts...
Chase the escaped chicken to catch it and prepare yourself an unforgettable barbecue-grilled chicken.
Yummy! But hell, that chicken sure runs fast!
Screenshots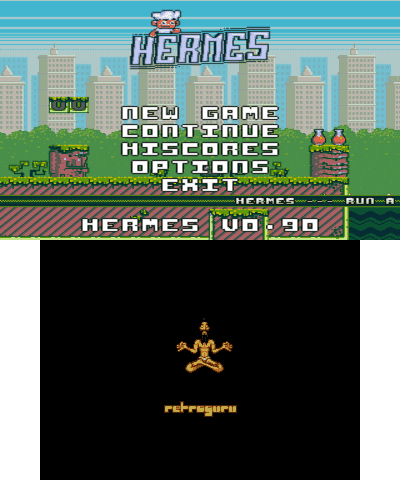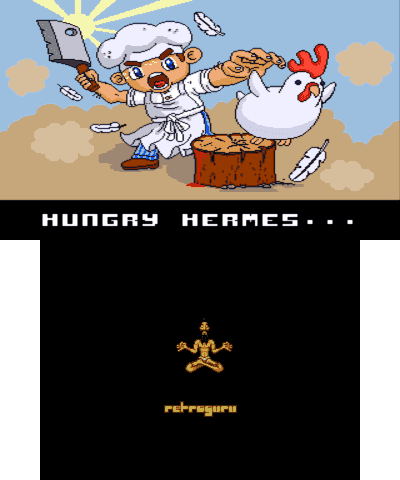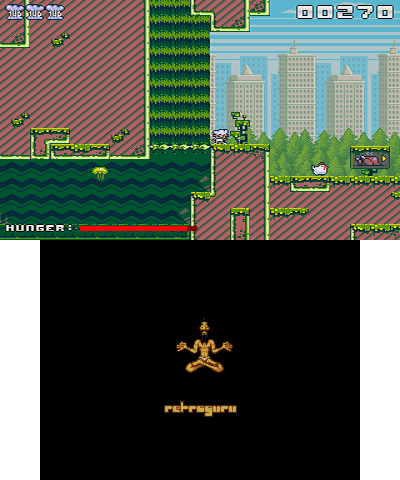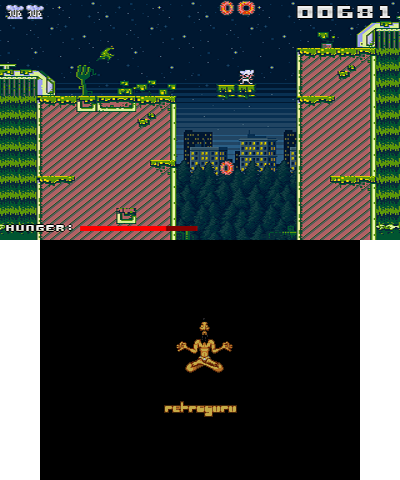 Media
Hermes - Run à la carte | by Retroguru (Official Trailer) (Mulle)

Hermes 3DS v0.90 (Cid2Mizard)

Changelog
v1.02 2017/07/10
Small fixes by Retroguru team.
v1.01 2017/07/09
Final release from Retroguru team. Levels fixed, sounds tuned and changed/added some gfx.
v0.92 2017/04/19
Now resetting options will delete highscores too.
First release (3dsx and CIA).
v0.90 2017/04/16
Initial Release by Retroguru @ Revision 2017.
Credits
Hermes Core Team:
Code, Beta-Test - Lars Persson (AnotherGuest).
Producer, Beta-Test, Levels - Shahzad Sahaib (Kojote).
Levels, Trailer, Beta-Test - Denny Müller (Mulle).
Graphics, Character Design - Krzysztof Matys (Koyot1222).
Additional Graphics - Jan Jensen (Flarfy).
Music - Roland Voss (Triace).
Music - Johan Letfors (Vedder).
Porter:
Helping hands:
Joey Askey - Official Hermes Comic.
Virgile Metier - Retouching Background Graphics.
Iwan Gabovitch - Few royality free SFX.
Hermes uses SDL, SDL_Mixer, libmodplug and zlib. Consult and visit:
Tunes:
Title music - Slasher (Intro) (by Vedder).
Level 01-04 - Bonefired Happiness (by Triace).
Level 05-08 - No Hard Mood 2 (by Triace).
Level 09-12 - WOC-Time (by Triace).
Level 13-16 - Here Be Hippos (by vedder).
Level 17-21 - Hospital Heat (by Triace).
Level 22-25 - Hit Me With Chips (by vedder).
Level 26-29 - Electrochips (by vedder).
Level 30-32 - Memory Massacre (by vedder).
Bossfight - Kottbulladdicted (by Triace).
External links