Hamsters 2DS
From GameBrew
Hamsters 2DS
General
Author
Cid2mizard
Last Updated
2015/11/01
Type
Simulation
Version
1.2.1
License
Mixed
Links
Download
Website
Hamsters 2DS is a homebrew simulation game for the Nintendo 2DS/3DS. It is a hamster breeding game in text mode, adapted from the game HAMSTER that runs on MO5, TO7 and PC (between DOS 3.0 and Windoes XP).
This homebrew has been translated from French to English, and uses only the top screen to keep the spirit of the original game.
Installation
Available as a CIA, 3DSX/SMDH and 3DS.
3DSX - Copy the Hamster 2DS folder to the 3ds folder of your SD card, run with homebrew launcher.
CIA - Copy .cia to your SD card and install it with the CIA manager of your choice.
3DS - Copy .3ds to your SD card.
User guide
Take care of your little hamster farm, you will have to use your budget wisely to manage their food and the risk of epidemics, etc.
Controls
Right/Left - Add/Subtract 1
Up/Down - Add/Subtract 10
R/L - Add/Subtract 100
A - Next step
Start - Exit
Screenshots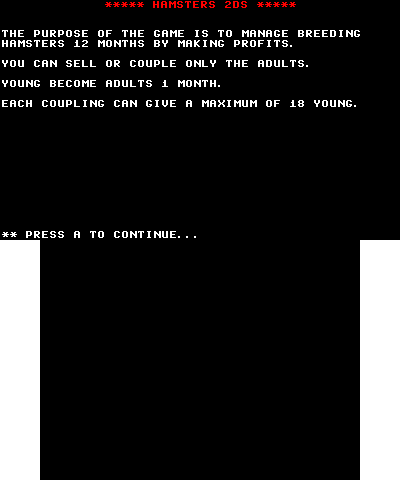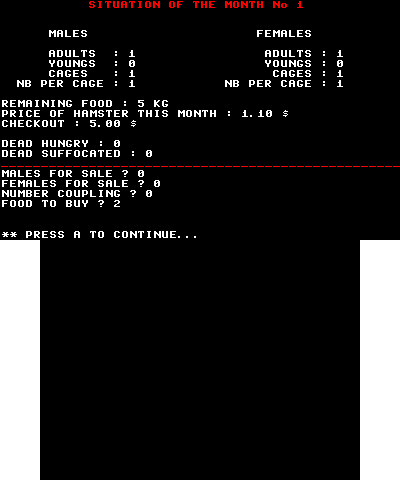 Changelog
v1.2.1
Update ctrulib, now exit works with ninjhax 2.5.
v1.2
Add, 3ds, cia, elf format (uniqueID = 0x1101).
v1.1
Fix bug with "Youngs" on restart game.
v1.0
External links