HMTK
From GameBrew
Health Monitoring Tool Kit
General
Author
arrpirate
Last Updated
2009/03/19
Type
Other Apps
Version
2009
License
GNU GPL v3
Links
Download
Website
Source
HMTK stands for Health Monitoring Tool Kit. It is a tool for people trying to look after their nutrition, their weight, and their blood sugar.
It was ranked 8th in the NEO Spring Coding Compo 2009, APP section.
Features
Helping to maintain or lose weight using a proprietary system that uses calories, fat, and fiber to determine a unit.
Make a blood sugar log to help diabetics such as the developer keep track of sugar levels.
Make a weight gain/loss log to help one keep track of weight changes.
Installation
Download and extract file.
DLDI patch it and copy it to the root directory of the card.
User guide
It takes detailed information about your current weight and compares it to your last weight, telling you your weight loss or gain since your last entry.
Upon first running it, it will create a file, settings.ini, where settings are kept in a human readable format.
You can alter settings manually or use the Options menu inside the program. Also, it will create various text files as appropriate when you use the different features of the program.
Controls
Double tap on menu - Select the menu entry
D-Pad/A - Navigate menu
Screenshots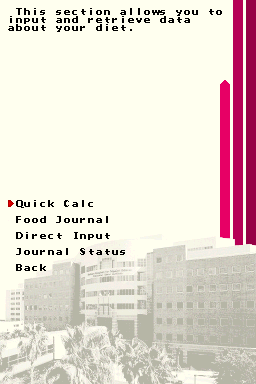 Changelog
2009/03/19
Fixed a graphical glitch in the blood sugar section.
External links