Grafoon
From GameBrew
Grafoon
General
Author
preussie
Last Updated
2008/08/05
Type
Shooter
Version
0.9
License
Mixed
Links
Download
Website
Source
Grafoon is an arcade style puzzle shooter with a lot of classic elements such as doors, keys, mines (including chain reactions), various walls with different behavior, laser barrier and nasty enemies.
This release includes 9 tutorial, 8 built in and 10 more maps in an external map set. Supporting external stored maps implies, that can build and play own Grafoon maps.
Installation
Download and extract file.
Copy the Grafoon.nds file somewhere to memory card and user_maps directoy to the root of the card.
If you DLDI patch the binary, you can select a map set from the main menu.
User guide
The main target is to pick up all Hobbels and bring them home to advance to the next map. Don't touch the walls, they will destroy your ship. Touching enemies or enemy shots drain you ships energy. Collect green gems to increase your ships energy...
The status line at the bottom of the screen indicates the follows (from left to right):
Ship Energy.
Score.
Hobbels out/Hobbels on board.
Number of Mines.
Number of red-green-blue keys.
Controls
Left/Right - Rotate left/right
A/Up - Thrust
Down - Reverse thrust
B - Shoot
X - Drop mine
R/L - Scroll up/down
Screenshots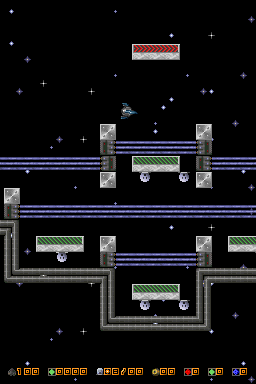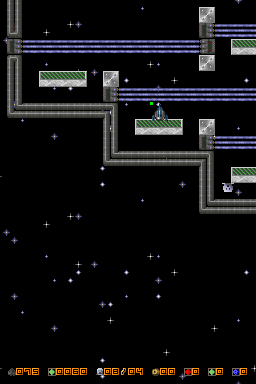 Compatibility
Tested in no$gba and on the R4 DS card.
Changelog
Version 0.9
Moving walls.
Hobbel carrier enemy (this enemy drops a hobbel if killed).
Timed doors (opens for 5 seconds if the 'key-switch' is touched or shot).
Hobbel speed-up (pressing the 'Y' key increases the hobbel speed).
Support for 'external' maps via DLDI interface.
27 level (9 tutorial maps, 8 built in map, 10 maps in an external level set, wich requires DLDI patch).
Larger maps (support for variable map size).
Scoring item.
Custom control configuration.
High score list.
More sounds.
Some bug fixes.
Version 0.8
First release May 27th, 2008.
External links