Futuracer
From GameBrew
Futuracer is the a 3D furutistic racing demo for the NDS, which is a second version of Futuristic Racer demo.
Features
Complete game with many options.
3D graphics.
Up to 4 views of race.
Customized of controls.
Installation
Download and extract file.
DLDI patch it if needed (if your card does not have auto-patching) and copy along with the folder to the root directory of the card.
Controls
Menu:
A - Proceed
B - Go back
Up (hold while booting) - Delete custom controls file
In game:
Start - Reset onto track
Select - Change View
A/B/X/Y/L/R - Customized on game load
Stylus - Top half zooms in, Bottom half zooms out (on view from above)
Screenshots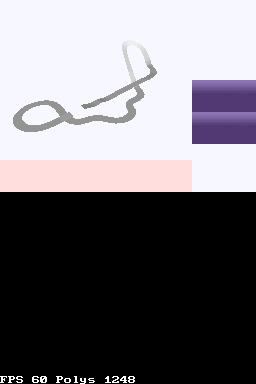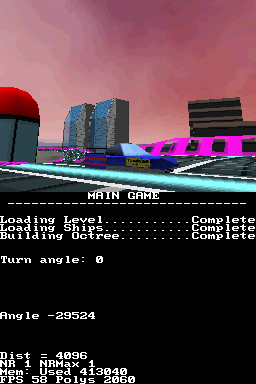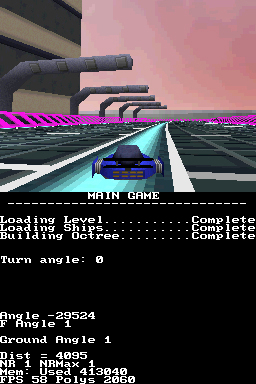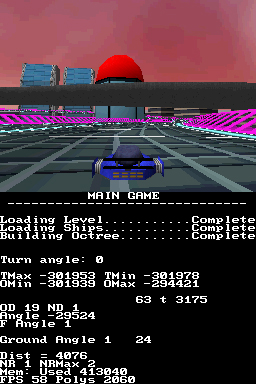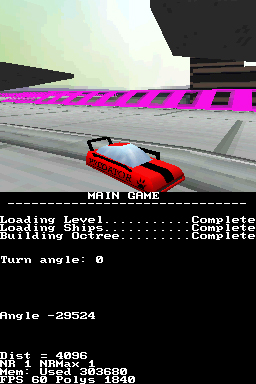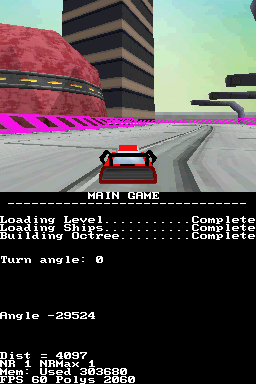 Compatibility
Tested to work on Supercard SD, CycloDS and DS-X.
Known issues
Still have issues with rotations over some triangles.
Cannot exit a level, so have to reset the game to change level or ship.
Credits
All the Devkitarm and libnds people for the tools.
SausageBoy for texmex, all textures were converted using this tool.
Lick/Melw for their file locating code, which means that the data folder can be stored anywhere on the card.
gbadev'ers for all the help.
External links