Forwarder CIAs for your HOME Menu 3DS
From GameBrew
Forwarder3-DS
General
Author
RocketRobz
Last Updated
2021/10/11
Type
Forwarders and Virtual Console Injectors
Version
2.9.6
License
Mixed
Links
Download
Website
Source
Forwarder CIAs for your HOME Menu is a forwarder generator app for DS game forwarders on 3DS/DSi. Based on Forwarder3-DS originally by Olmectron.
User guide
Below is the guide for 3DS with SD card only.
For flashcard and/or DSi users, please refer to this complete guide.
Also see the compatibility list to check what games work from the SD card.
Requirements
3DS:
A CFW that patches TWL_FIRM (Luma3DS).
A CIA installer (FBI, DevMenu, etc).
An SD Card (or microSD card for N3DS).
(Optional) DS-Mode flashcard (aka, Slot-1 to microSD card adapter).
PC:
Forwarder3-DS.
x64 version of your OS (maybe needed for Windows).
Windows only:
Microsoft Visual C++ 2010 SP1 Redistributable.
Windows/Linux/Mac:
Java 8 Update 251 (Thanks to @djwyman for finding this out).
Java SE Development Kit 8u281 (Thanks to @RoyalTea for finding this out).
Local language set to English.
Linux: JavaFX.
Using SD card
Preparation:
Download the required files here (look for tags starting with "SD").
In the 7z file, extract what's in "for SD card root" to the root of the SD card.
After you extract the pack for your card, you can edit "sd:/_nds/nds-bootstrap.ini" and change one of the settings:
BOOST_CPU: If set to 1, TWL clock speed is used, so lags begone.
SOUND_FREQ: If set to 1, sound will play at 48khz, instead of 32khz.
LANGUAGE: If set to -1, the system language will be used.
REGION: If set to -2, the DSiWare game's region will be used instead of the system's.
Getting AP-fix from Twilight Menu++ (skip, if the app is aleady installed):
Download the latest TWiLight Menu++ here. Only get the 3DS.7z file.
In the 7z file, go to "_nds", "TWiLightMenu", and "extras".
Drag the "apfix.pck" file to "sd:/_nds/ntr-forwarder/".
Dump your ROMs with GodMode9 3DS (skip, if you already have the ROM(s) you need):
Make sure you have your DS game cart inserted.
Hold START on boot to bring up the payload selection menu.
Select GodMode9.
At [root], select GAMECART.
Copy the .nds or _trim.nds file to anywhere on your SD card.
When you're done dumping your ROMs, power off the system.
Using Forwarder3-DS:
Run the app.
Select the target card you're using on the left.
If you don't see a list of cards, download a zip file here, and put "forwarders" in the same folder as the .jar file, and rename "forwarders" to ".forwarders".
Turn on "Automatically set ROM path" to set the path to where your ROM is at in the SD Card or flashcard.

Linux users - The automatic path is incorrect since it includes the entire path (e.g. /media/$USER/something/). Please remove that part.
MacOS users - The automatic path is incorrect since it includes "/Volumes/(cardname)/" at the start. Please remove that part.

Click the folder on the top-right, and find the ROMs on the SD Card (or flashcard) you are using, or drag and drop them (from the SD card or flashcard, not the PC) into the window.
SD card users - If your DS game's save file is in the same folder as the ROM, move it to a folder called "saves", which should be made in the same location as the ROM.
If you're playing a hack/translation of a DSi-Enhanced game that has it's banner/title edited, find the banner for the game, right click on the game in Forwarder3-DS, click "Import banner", then choose the banner.
If using a homebrew ROM, click on it, then clear and type in the game title.
Click the floppy drive button to generate the forwarder.
Finalization for 3DS:
Copy the CIA to your 3DS SD Card, or put it in Boop for network installation.
Install the CIA(s). If using EmuNAND, install it to both Sys & Emu NANDs.
Notes
For a way to make forwarders for SD ROMs directly on your 3DS console, please follow this guide.
To install more than 40 forwarders and/or if you want the banner to not be the game's icon, then use YANBF instead.
FAQ
Please see this guide by RocketRobz.
Screenshots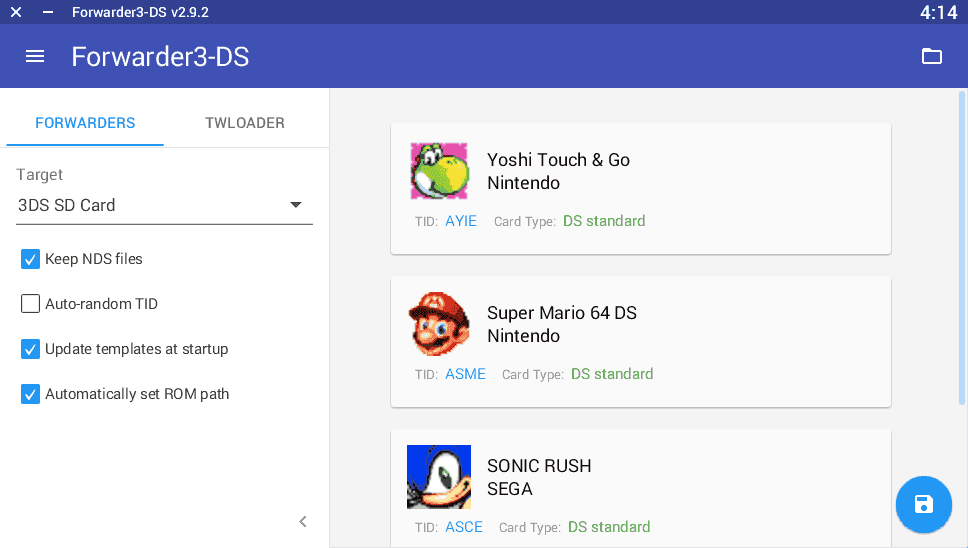 Media
How to create a DS forwarder for 3DS (Rojelio Reyes)

Credits
Olmectron, for making Forwarder3-DS.
RocketRobz, for creating the Auto-Boot ROM Path setter for DSTT/R4i Gold/R4i-SDHC/R4 SDHC Dual-Core/R4 SDHC Upgrade/SC DSONE, Acekard 2(i)/R4iTT, and DSTWO.
ahezard, for making the R4/M3, Acekard RPG, R4iDSN/R4i Gold RTS forwarder templates, and nds-bootstrap.
Apache Thunder, for recreating the DS/DSi boot screen.
MasterCheese, for help with getting the Ace3DS Plus, Gateway Blue Card, and cards with www.r4isdhc.com.cn to work.
External links