Flyin'
From GameBrew
Flyin'
General
Author
ds
Last Updated
2012/01/06
Type
Action
Version
1.1.1
License
Mixed
Links
[1.1 Download]
Website
Flyin' is a DS homebrew game that is in 3D. It is available in multi-languages (currently English and German, depending on user's preferences) with an in-game manual.
It is submitted to the NEO Coding Competitions 2011.
Note: The link is for v1.1 only (latest release is v1.1.1).
Installation
Copy the Flyin.nds to any place on your flash card (DLDI if required).
Your Savegame will be stored in the file /data/flyin/save. The file and folders will get created after you completed the first level.
Note: In theory Flyin' will create the needed folder /data/flyin/, if saving game progress won't work, you can try to create it manually.
User guide
Control a fly, discover the levels, find the green sphere.
Make sure not to collide with walls, objects, etc, as that wouldn't be healthy for the fly... and you would need to start the level again.
Rotate the fly and it accelerates by itself. Red spheres will brake the fly on collision.
Controls
Stylus - Rotate the fly (drag)
L/R - Reduce speed
Start - Pause, Restart level, Return to menu
Screenshots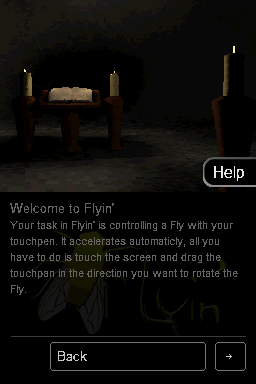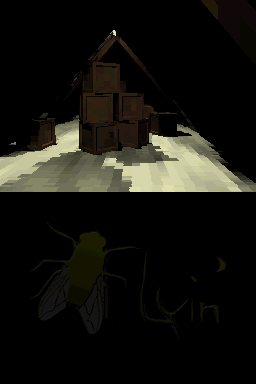 Compatibility
Tested on R4.
Works on Emulator. Developer advised using No$gba (with missing features).
Known issues
The following features are not available if you are running the homebrew with No$gba:
Savegame (due to missing DLDI support).
Additional Levels/LDK (due to missing DLDI support).
Fog effect (tested by the developer using No$gba).
Changelog
v1.1.1 2012/01/06
Added Spanish translation, thanks to Roham.
v1.1 2011/08/28
Added support for LDK.
Added Fog effect to smooth end of sight.
v1.0 2011/08/11
Initial release with 6 Levels in Story.
External links