FlabbyBird3DS
From GameBrew
FlabbyBird3DS
General
Author
DomRe
Last Updated
2016/02/16
Type
Arcade Games
Version
1.1.0
License
Mixed
Links
Download
Website
Source
FlabbyBird3DS is a Flappy Bird clone for the Nintendo 3DS.
Why Flabby Bird? He got fat hiding all day from copyright vultures.
Installation
Installing
Copy FlabbyBird3DS.3dsx and FlabbyBird.smdh to /3ds/FlabbyBird3DS/ on your SD card.
(For Citra, put the res folder to the root of the SD card.)
Building
To build, you require the following libraries:
Then run make to build the .3dsx.
Controls
A - Start
B or Touchscreen - Jump
X - Open/close instructions
Start - Quit, Back to menu
Select - Reset highscore
Screenshots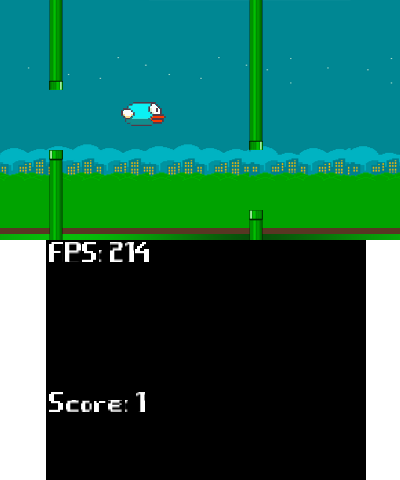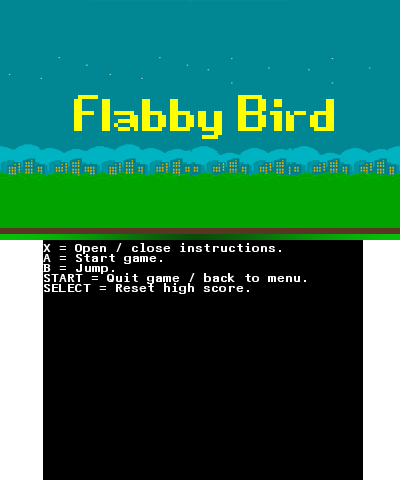 Changelog
v1.1.0
This update adds support for using the touchscreen for jumping and should support 3D.
v1.0.0
First release of the game. Please report any issues in the issue tracker. Option to compile yourself available.
Credits
xerpi - SF2D, SFIL, SFTD.
smealum - ctrulib.
Included artworks (specifically, anything found in [[../master/res/|res/]]), are found on google images. All credits to the original creator(s).
External links