Fireworlds
From GameBrew
Fireworlds is an original homebrew puzzle/platform adventure game for the NDS. It has a puzzle feel to it: carry around stuff, activate switches, push boxes. There is also a great part of action: jumping, running, avoiding the water.
It was participated in the Homebrew Bounty 2011.
Features
Collisions and physical well-implemented.
The game engine reaches 60 FPS.
Help on the level available on the top screen.
Automatic game saving.
36 levels available (must be unlocked).
Installation
Download and extract file.
Copy the data folder in the root of the MicroSD card (like this: X:/data/fworlds/ if X: is your microSD drive).
Copy fireworlds-game.nds in the MicroSD card (DLDI patch if your card doesn't do it automatically).
User guide
Play as a ball of energy and collect glowing orbs that are scattered around the stage. By getting the glowing orbs, a portal would be opened that would move on to the next level.
The goal is to collect all energy bits from the level and then get to the exit (the level restarts when you die).
Controls
A - Jump
X - Select another fireball
B - Speed boost
Y - Restart level if you get stuck
Start - Pause
Select - Exit to menu
Screenshots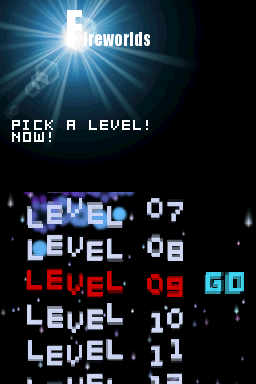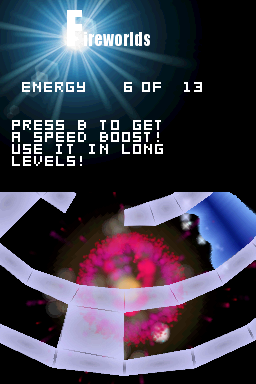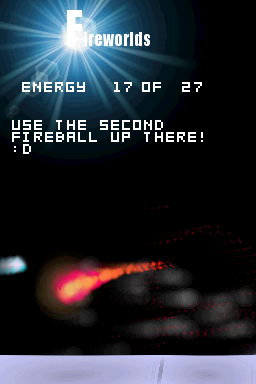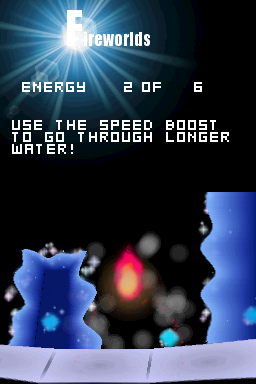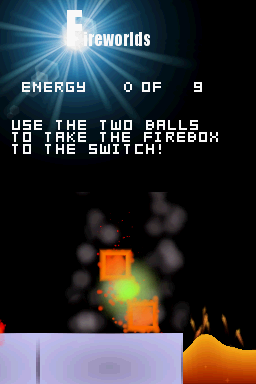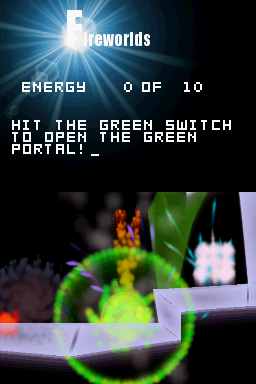 Media
Fireworlds Trailer (Dirbaio)

Fireworlds Intro video (Dirbaio)

[Walktrough] Fireworlds #1 (RaphaelCWGames)

[Walktrough] Fireworlds #2 (RaphaelCWGames)

[Walktrough] Fireworlds #3 (RaphaelCWGames)

[Walktrough] Fireworlds #4 (RaphaelCWGames)

Compatibility
Tested on R4 Wood R4DS (firmware v1.33).
Changelog
Version 1.1 2012/10/31
Fixed lag in all levels.
Improved all the levels: Fixed unintended shortcuts and made those very-frustrating-levels less frustrating.
Reworked the appearance of the fireball. Now it has a more definite shape and looks more like fire.
Some random graphical improvements/fixes.
It now has a pause screen.
Version 1.0 Final
Added lots of levels.
Fixed lots of bugs.
Finished the game.
Version Beta3
Last update before final release.
Annoying corner bug fixed, now completely.
Fixed falling through ice blocks sometimes.
Added intro video.
Zoomed out a bit for more visibility.
Improved the tutorial levels.
Added speed button! Big levels are no longer boring.
ROM no longer needs to be in root.
Added fireboxes.
Added switches.
Bug fixes! Collision fixes.
Added awesome intro video (Thanks to dear friend Sorington).
Added pause button.
28 levels.
Version Beta2
Fixed game launching but crashing later when libfat can't init (for example in no$gba).
Fixed getting stuck in the insides of corners in most cases.
Added button navigation to menus.
Fixed having another fireball selected when another one you aren't controlling dies or exits.
Made physics a bit calmer, especially the pink bouncy things.
Added help on the top screen.
Fixed many tiny graphical bugs.
Completely recoded the collision system. It's waay more flexible now.
Added Ice Blocks (Used in only one level for now).
Added hints and help on the top screen.
More levels. The first ones are supposed to serve as a tutorial.
Version Beta 1
Credits
Design and Programming: Dirbaio.
Music: Saga Musix.
Libraries: libNDS and ASLib.
External links