Fallout Europa
From GameBrew
Fallout Europa
General
Author
Nodens
Last Updated
2007/07/22
Type
Role playing
Version
Build 220707
License
Mixed
Links
Download
Website
Fallout Europa (French) is a console-style RPG with a Fallout background, the story this time taking place in Europe.
Features
Contains a map game.
The menus are in final.
The game system-ended.
Installation
Download and extract file.
DLDI patch .nds file if needed (if your card does not have auto-patching) and copy it along with the files to the root directory of the card.
User guide
The fights keep the principle of everything by turn with PA (Power Armor) and are directly integrated into the playing surface.
The movement in combat is done square by square with loss of an action point with each movement, go to the objects menu or shooting takes more points.
At each level gained, you get 5 attribute points to spend between 4 characteristics:
Endurance - Determine the amount HP of the main character.
Perception - Determine the damage done.
Agility - Determine the amount of AP in combat and armor bonus.
Intelligence - Determine the weapons that can be used.
Controls
Exploration phase:
D-Pad - Movement
B - Run
A - Interaction with the environment
L/R - Navigate in the menus
Combat phase:
D-Pad - Pressing moves the character one space
A/B/X/Y - Turn the character in the corresponding direction, do not use any PA
Start - End turn
Select - Item menu (consumes PA)
L/R - Draw
Screenshots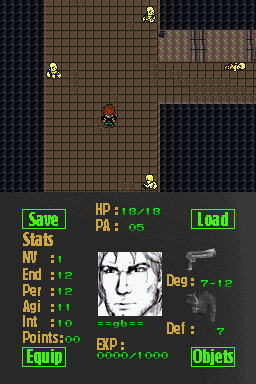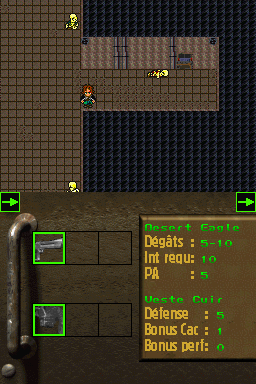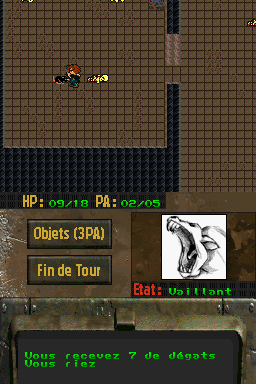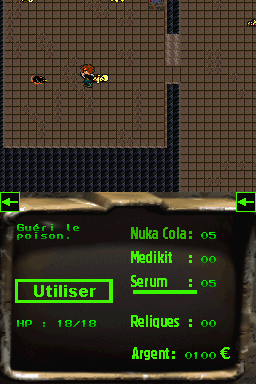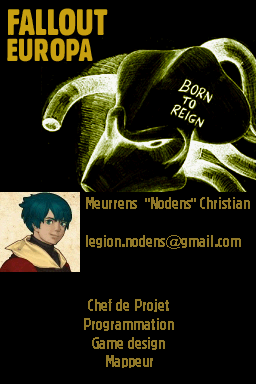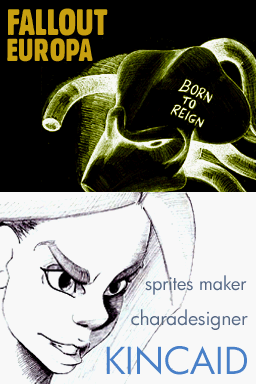 Known issues
Animation bugs at the enemy level.
Changelog
Build 220707 2007/07/23
External links