Earth Invaders 0
From GameBrew
Earth Invaders 0
General
Author
Smealum, Lobo
Last Updated
2007/05/07
Type
Shooter
Version
Alpha
License
Mixed
Links
Download
Website
Earth Invaders 0 is an old school side scrolling 2.5D game, developed by smealum (code) and lobo (GFX). The game features a classic 2D gameplay with a 2D background, but every single element, item, character of the game is actually real time rendered in 3D.
It was participated in the GBAX compo in 2007 and the NEO Spring Coding Compo 2007 (winner).
Installation
Download and extract file.
DLDI patch .nds file and copy it with the directory EI0 to the root directory of the card.
User guide
Story
In this game's universe, there are two major forces: Earth and the Naouak planet.
You play as a Naouak warrior, but not any warrior; you're a Spectre. You have no name, you have been brainwashed and you blindly serve your general who has just sent you out for an important mission, on Earth's moon. Unfortunately, on your way there, you're hit by an asteroid and you crash on this very same Moon. You're wounded and have lost most of your equipment; you have no choice but to walk into the base you see...
Gameplay
Meet different objectives throughout the game in order to get through the level and move to the next. Use different weapons to shoot enemies and that you unlock while advancing in the game.
This game features a mirror control scheme for both left and right handed.
Controls
D-Pad or A/B/X/Y - Move
Up/X - Jump, Change equipment (in equipment menu)
Stylus - Aim, Open the equipment menu
R/L - Shoot (have to be aiming with the stylus)
Up+D-Pad - Long jump
Up - High jump
Screenshots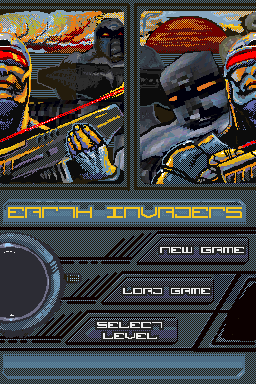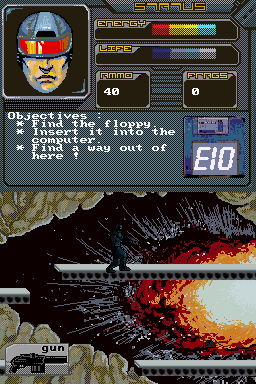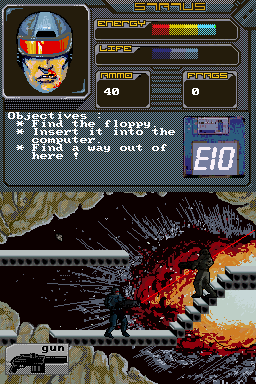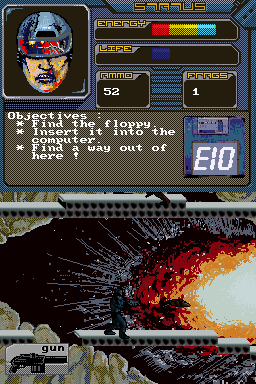 Media
Earth Invaders 0 (smea)

Compatibility
Works on:
DSTT/TTDS
M3DS Simply
R4

Known issues
This is an Alpha version which is possible that it does not work properly.
Credits
Original idea: Smealum
Additional awesome ideas: Lobo
Main coder: Smealum
Additional coders: Smealum, Smealum and Smealum
Graphics: Lobo
External links