EDuke3D 3DS
From GameBrew
EDuke3D
General
Author
MasterFeizz, updated by MrHuu
Last Updated
2021/03/16
Type
Shooter
Version
1.0-beta & Addons
License
Mixed
Links
[1.0-beta & Addons Download]
Website
Source
EDuke32 is a free homebrew game engine and source port of the classic PC first person shooter Duke Nukem 3D (Duke3D for short) to Windows, Linux, Mac OS X, FreeBSD and several handhelds.
EDuke3D is an unofficial port of EDuke32 to the 3DS. Originally released by MasterFeizz, it was updated by HrHuu with addons to support expansion packs and music.
Installation
Download contains the following verions:
EDuke3D 1.0-beta - Original by MasterFeizz.
EDuke3D 3DSX - Updated with the latest ctrulib by MrHuu.
eDuke3DS DEFS - Addons to run expansion packs and music by MrHuu.
To play the full version, you have to replace the included duke3d.grp with the one of the full version.
To include music, music files have to be in .ogg format. All required audio files are defined in the provided *.def files, check them to make sure you have all required audio files.
Regular eDuke3d
Copy the file structure of eDuke3DS_DEFS.zip to your SD card.
Extract EDuke3D-1.0-beta.zip, copy the files from the eduke3d subfolder to /3ds/eDuke3DS/ (touchpadOverlay.bin, keyboardOverlay.bin, eduke32.cfg and duke3d.grp).
Copy the .3dsx file from EDuke3D_3DSX.zip to /3ds/eDuke3DS/ (overwrite any existing one).
To include music, copy all music files to /3ds/eDuke3DS/addon/music/.
Then launch the .xml shortcut from the Homebrew Launcher.
Additional expansions
Copy over the .grp file to their respective folders (e.g./3ds/eDuke3DS/addon/DukeDC/).
Copy music files to their respecive folders (e.g./3ds/eDuke3DS/addon/DukeDC/music/).
Again, launch the appropriate .xml shortcut from the Homebrew Launcher.
Note: Nuclear Winter requires both nwinter.grp and nwinter.con.
Screenshots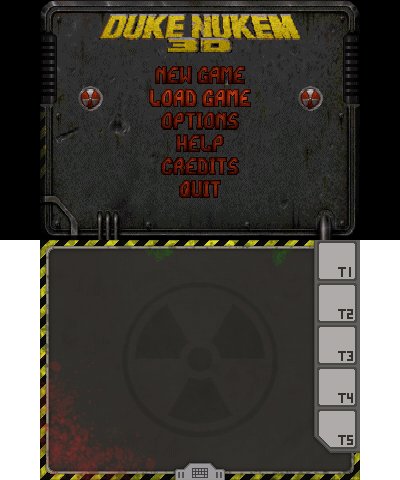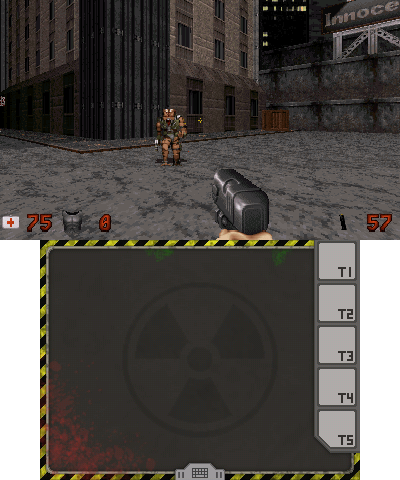 Compatibility
Tested on N3DS.
Changelog
v1.0-Beta
Initial CIA release.
Bugfixes (mostly memory management).
V1.0-Alpha2
Fixes saving and loading issues.
Fixes weird sounding music.
V1.0-Alpha
New sound driver.
Background music support (.ogg only).
New touchscreen overlay.
V0.2.1
Fixes red screen freeze when exiting the game.
V0.2
Added OSK.
Added circlepad, c-stick, and touchscreen input support.
Improved audio.
v0.01
Credits
Felipe Izzo (MasterFeizz) - Main developer.
Thanks to:
3D Realms - Duke Nukem 3D.
Everyone involved in the EDuke32 project.
Smealum and everyone involved in the development of ctrulib.
External links