Dorks Dilemma 3DS
From GameBrew
Dork's Dilemma
General
Author
WLS
Last Updated
2022/03/29
Type
Action
Version
2022
License
Mixed
Links
Download
Website
Dork's Dilemma? is a video game published in 1985 on Commodore 16, Plus/4 by Gremlin Graphics Software Limited. It is an action game, set in a sci-fi futuristic theme.
The game has been rewritten with GB-Studio, available on GameBoy Color and 3DS.
It was participated in the Remake Jam 2022.
Installation
Available in CIA format for the Nintendo 3DS virtual console.
Install the .cia file with a title manager of your choice.
User guide
Plasma rocket failure. A space shattering collision with a planetiod form not known to any civilised solar system.
A dazed, confused Dork awakens to find his disabled spaceship stripped and hidden throughout the underworld kingdom of the evil little Zobwats. Zobwots? Zobwats! Dark little creatures living in an underground maze.
And they told Dork spacetravel was supposed to be fun.
Controls
Start - Start the game
D-Pad - Move
A/B - Drop a bomb
Select - Map
Screenshots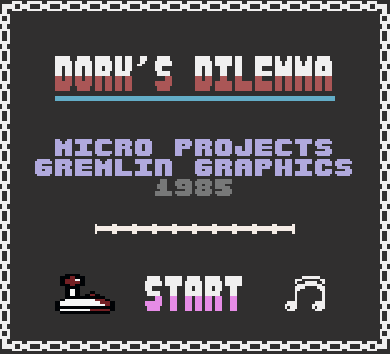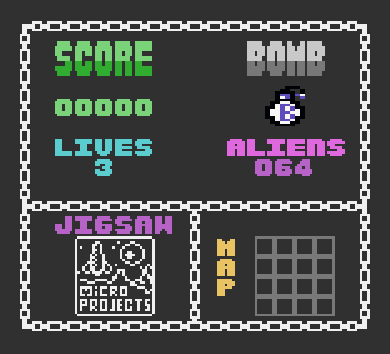 Media
Dork's Dilemma - Gameboy Color Version (László Rajcsányi)

Credits
Original version: Anthony J. Clarke - Micro Projects Ltd. and Gremlin Graphics. Commodore 16/Plus4, 1985 (link).
This game has been entered into Remake Jam 2022 with permission from the original creator (Anthony J. Clarke). Thanks Anthony for the positive feedback and blessing.
Created with GB-Studio 2.0.0 beta5 by László Rajcsányi (WLS).
External links