Darkster
From GameBrew
Darkster
General
Author
The Dark Master
Last Updated
2012/01/05
Type
Action
Version
1.0
License
Mixed
Links
Download
Website
Darkster is a DS homebrew action game using the setting and character images from Nintendo.
Installation
Put the game (extension .nds) in the folder where your games are.
Put the Darkster folder in the root of your card, it is essential that you put it in the root, not in another directory.
Load the homebrew like any other, and if it doesn't load, try launchers like DSOrganize.
User guide
Some of the special moves/attacks require SP, otherwise it is not performed.
Controls
Menu:
Left/Right - Select player character
Up/Down - Choose another player's character
Start - Start fighting
In game:
D-Pad - Move
A - Make combo
B - Jump
L - Dash to the side
R - Activate shield
Start - Restart/refresh level
Select - Return to the character menu
Screenshots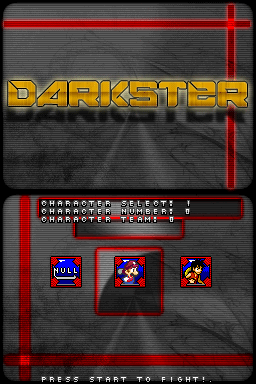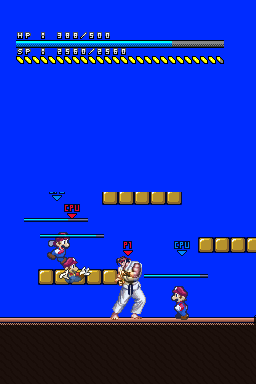 Comaptibility
Tested on:
M3DSReal (firmware version v4.9a X)
DSTT/TTDS (firmware 1.17a12)

Known issues
In the right of the screen the shadow of the stage is not generated correctly.
Sometimes the scenario does not load correctly, it is solved by pressing Start.
The CPU of your same computer sometimes does not know what to do and crashes.
Changelog
Version 1.0
Clean and repair code, many bugs have been indirectly solved.
Life bars have been added above each player (except you) to be able to see the life that they have left.
FAT support has been implemented in characters, the characters are loaded from the game folders.
Enemy CPU improvements, now it is a bit smarter.
Reduction of errors when loading, now it is more difficult for the game to freeze.
Character selection menu added.
Added images in the menu and loading screen.
External links