DSpertator2
From GameBrew - a wiki dedicated to Video Game Homebrew.
DSpertator2
General
Author(s)
copete23
Type
Other
Version
2.0
Licence
Mixed
Links
Download
Website

DSpertator2 is an alarm clock, which incorporates 17 different melodies and an interface.
Installation
Download and extract file.
DLDI patch .nds file and copy the whole content to the root directory of the card.
User guide
In the folder my dspertator there are 3 folders: music, bg, sprites as well as a dat.xx file that stores settings.
Music:
Here you can store your music in mp3 format, you will have to appoint them as 1.mp3, 2.mp3 to 10.mp3 (you do not have to put all 10). The mp3s will have to have a maximum birate of 56kbps (it may hold a little more) so it will be necessary to edit them with an mp3 editing program (developer recommeded using Switch).
BG:
In this folder you can save the wallpapers, they will have to be in .bin format, you can convert files to that format with programs such as PAGfx tool from mollusck.
The backgrounds must have a size of 256 pixels wide by 192 high (the screens of the DS) and a maximum of 256 colors, in any format you want (bmp, png, jpg). When saving you will have to name them screen1 for the bottom of the upper screen, and screen2 for the lower screen.
Sprites:
In this folder all the buttons are also in .bin format. When creating the buttons, they must be 32X32 pixels in size, neither larger nor smaller. You have to name the buttons as follows:
alarm_bt - Button for activating or deactivating the alarm.
down - To navigate the melody selector.
up - To navigate the melody selector.
more - To increase the hour or minute of the alarm.
less - Same but to go down.
off - Turn off the console.
play - To play the melodies.
save - Allows to save all configurations.
screen - To turn off the screens.
Inside the download file there is a folder named examples, with all the buttons and backgrounds in bmp that come by default. You can use them as a template.
Customization
When you convert spirtes to bin formats, it will generate 2 bin files, name_pal.bin and name_sprite.bin. Rename the file name according to the button name list above, for example:
play_pal.bin
play_sprit.bin 


Then copy both files to the sprites folder in the my dspertator directory.
The backgrounds will be made up of 4 bin files, name_info.bin, name_tools.bin, name_pal.bin and name_map.bin. Rename them the same way, for example:
screen1_info.bin
screen1_tools.bin
screen1_pal.bin
Screen1_map.bin


Then copy them to the bg folder.
Edit mode
There is an edit mode within the application that allows you to place everything as it best suits your design, you can also move the text boxes that display time, alarm and the music.
Once everything is to your liking, exit the edit mode and press the save button to store the changes.
Controls
Stylus - On-screen icons for active functions
A - Activate/exit Edit mode
Edit mode:
Stylus - Move buttons
D-Pad - Move the alarm
Hold B+D-Pad - Move the music
Hold X+D-Pad - Move the time
L/R - Change font color (Edit mode)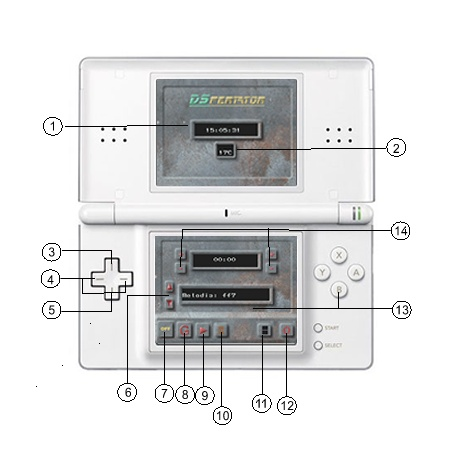 1 - Reflects system time, you will have to fit in the console menu
2 - Not available
3 to 5 - Adjust the alarm time (3 to 5 for up and down)
4 - Same as the previous point that only for minutes (left to right)
6 - Tune selection
7 - Activate/deactivate the alarm
8 - Save, both the alarm time as the melody selected and skin
9 - Play, hear the melody before placing as alarm
10 - Pin change theme or skin: metal type and the wood type (save and restart to use)
11 - Screen off to save battery
12 - Pin off
13 - Stop alarm
14 - Adjustment buttons for hours and minutes, same as points 3,4,5
Compatibility
Tested on M3 Real (Sakura firmware 1.34).
External links