DS Bill
From GameBrew
dsBill
General
Author
thedopefish
Last Updated
2008/02/06
Type
Other Games
Version
Final
License
GPL
Links
Download
Website
Source
This is a port of xBill to the Nintendo DS.
Installation
Download and extract file.
DLDI patch it if needed (if your card does not have auto-patching) and copy it to the root directory of the card.
Note: Libfat support is only used to load/save highscores, so if you don't care about that, you don't need to DLDI patch.
User guide
Ever get the feeling that nothing is going right? You're a sysadmin, and someone's trying to destroy your computers.
The little people running around the screen are trying to infect your computers with Wingdows [TM], a virus cleverly designed to resemble a popular operating system.
Additionally, some computers are connected with network cables.
When one computer on a network becomes infected, a spark will be sent down the cable, and will infect the computer on the other end when it reaches there.
Screenshots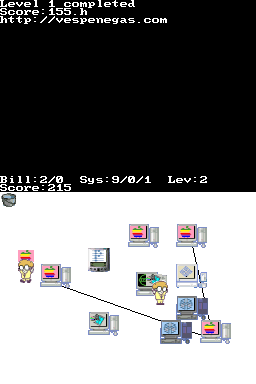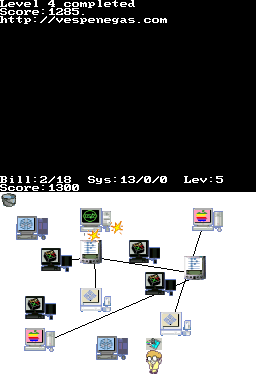 External links