Cube Breakout
From GameBrew
Cube Breakout
General
Author
sephiroth ff7
Last Updated
2007/12/09
Type
Arcade Games
Version
3.7
License
Mixed
Links
Download
Website
This is a 3D breakout, with 4D mode and an unusual power-up system. This game has a level and quest editor with motion card support. While the game's best features include the 3D and 4D game modes, the latest version includes the classic mode similar to Atari's original release. It has 255 levels in total.
This homebrew was participated in the NEO Summer Coding Compo 2007. It is also presented to the Dev-Fr.org Compo 2007, ranked 11th in the Game section.
Features
255 levels.
3D and 4D mode.
Classic mode.
2 players mode.
Installation
Download and extract file.
DLDI patch it and copy it to the root directory of the card.
User guide
Control a small platform that will bounce a ball, which in turn must bounce off a brick wall, which must be destroyed completely.
High scores can be submitted and be found here.
More levels can be downloaded here.
Controls
Menu:
Stylus - Enter your name, Change page, Choose game mode, Choose level
Up/Down - Move through the menu (settings)
Right/Left - Change Option (settings)
In game:
Stylus or D-Pad/A/B/Y/X - Move
L/R - Start game
Start - Set pause
In game (2-player):
D-Pad - Move (Player 1)
A/B/Y/X - Move (Player 2)
L - Start game (Player 1)
R - Start game (Player 2)
Screenshots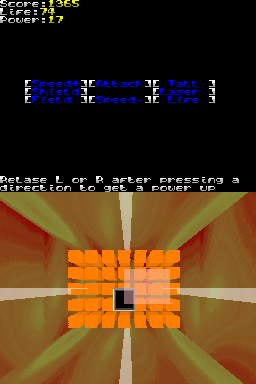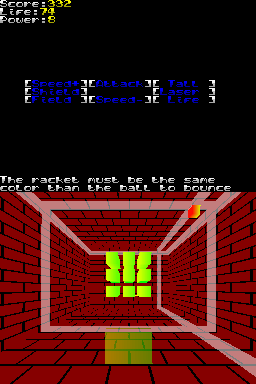 Compatibility
Works on:
R4DS Wood R4 (firmware v1.33)
M3 DS Real (M3 Sakura firmware v1.49X 3rd Edition)
Supercard DSTWO (firmware EOS v1.11)

Changelog
v3.7
v3.6
External links