CtrHexenII 3DS
From GameBrew
ctrHexenII
General
Author
Rinnegatamante
Last Updated
2016/08/17
Type
Shooter
Version
1.1
License
GPL-3.0
Links
Download
Website
Source
ctrHexenII is a port of Hexen II for 3DS based on a modified version of winQuake. It supports both basic game and Portal of Praveus DLC and it has been tested with glHexenII pak files.
This port, as of now, uses CPU rendering (which could be quite slow on O3DS in certain circumstances) and has full support to audio.
Installation
Available in 3DSX and CIA formats.
Files (portals and data1 folders) must be placed in the root of SD card.
User guide
It has an optional gyroscope support for camera movement.
There is also a secret third person mode activable on Options Menu.
Controls
C-Stick/Circle Pad or Touchscreen - Player movement
R (when launching) - Turn off game console
L (when launching) - Debug console
Screenshots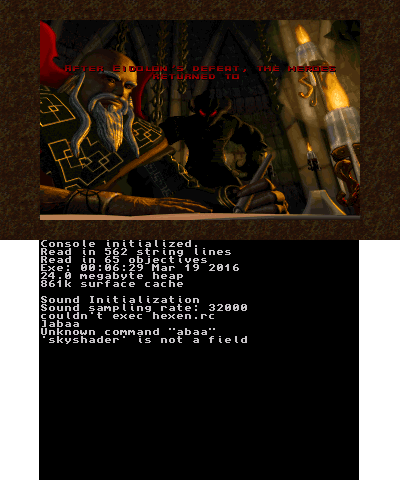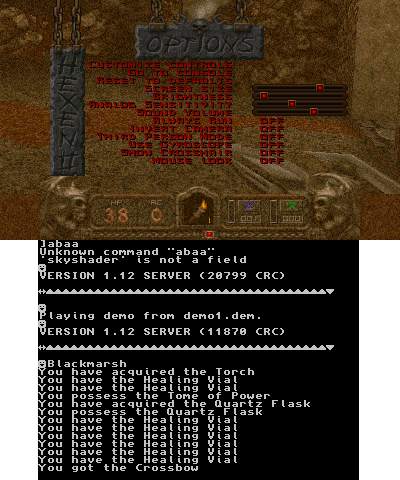 Changelog
v1.1
Added Third Person Mode in Options Menu (Experimental).
Added dsp::DSP audio service with native stereo sound support and better audio quality.
Improved csnd:SND audio service quality.
Bugfix for save files: now they will work fine and won't get deleted after exiting homebrew.
Bugfix for RemoveGIPFiles: now .pak files will not be deleted randomly anymore.
Added 3DS and CIA builds.
Bugfix for changelevel2: Now changing map will not cause a buffer overflow error anymore.
Added screen flushing when an error occurs allowing you to correctly read the whole error.
Made Debug Console optional (Hold L on ctrHexenII startup to enable it).
Made Game Console optional (Hold R on ctrHexenII startup to disable it).
Bugfix for water surfaces: now entering in a water surface will not cause a system crash anymore.
Added Invert Camera in Options Menu to invert camera function for analogs (1st analog for O3DS, 2nd analog for N3DS).
Added support for Camera movement to 2nd analog (N3DS only).
Added Analog Sensitivity in Options Menu to modify sensitivity for camera movement with analogs.
Now if config.cfg file exists, it will be loaded at startup instead of setting default values.
Added Use Gyroscope in Options Menu to enable gyroscope for camera movement (Experimental).
Credits
@elhobbs and @MasterFeizz for their repositories about Quake Engine used for some memory leaks patch.
@ihaveamac and @SLiV3R for testing the homebrew.
External links