Cristal Vista PSP
From GameBrew
Cristal Vista
General
Author
Miguel Arber (Arbr)
Last Updated
2010/08/22
Type
Operating systems
Version
7.0 demo
License
Mixed
Links
Download
Website
Cristal Vista, formerly named Cristal Vista Portable, (Spanish) is a PSP shell that simulates the Windows Vista Operating System coded by Miguel Arber (aka Arbr).
The shell was later modified and released as Cristal Sky (available in Spanish, English and also Portuguese), a more refined copyright free edition of Cristal Vista.
This was one of the contest entries for the Neo Retro Coding Compo 2010 (Retro APP, 9th place) and the Scenery Beta 2010 (PSP Applications).
Features
Windows Vista graphical environment.
Memory Stick Explorer.
PNG and JPG image viewer.
Cover Flow style MP3 player with the ability to add covers for display.
Integrated image editing editor.
Calculator.
Internet explorer using a graphical environment for Mozilla Firefox 2.0.
View basic information about the PSP.
Game series.
Control panel to configure the Shell.
Help Center.
Launch ISO.
Ability to run homebrew.
Online update capability.
Installation of additional applications and games downloaded from the Internet.
Sleep mode when not in use.
Interchangeable between shell and XMB.
Fully customizable (e.g. screen, cursor movement and speed).
Displays real-time clock, battery level and the ability to connect Crystal Vista to PCs via USB cable.
Notepads.
Installation
Note: Due to being a copyright free edition, some features have been removed in the remake version Cristal Sky and the latest DEMO version of Cristal Vista. You can find most of the listed features from Cristal Vista Portable v251209CVP, which is an older release and only available in Spanish.
Install any version you would like to use on your PSP and execute it form your XMB.
User guide
Use it just like PC. The interface closely resembles Windows Vista desktop screen with elements including a taskbar, icons for several applications, start menu and sidebar.
By installing Cristal Vista, you will have access to certain pre-installed applications and games (such as Paint, Minesweeper and Solitaire).
You can extend Cristal Vista by downloading applications or games from the internet and installing them.
You can find a full tutorial from the offical website or here (in Spanish).
Control
D-Pad/Analog - Move cursor
Cross - Click
Screenshots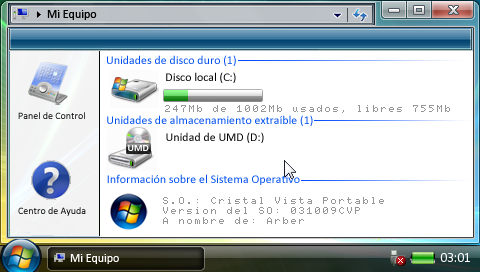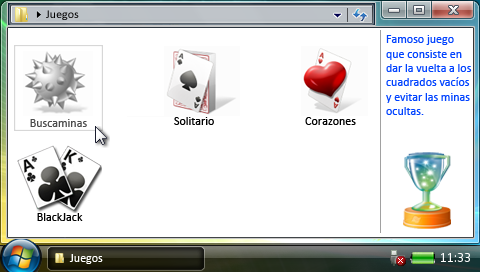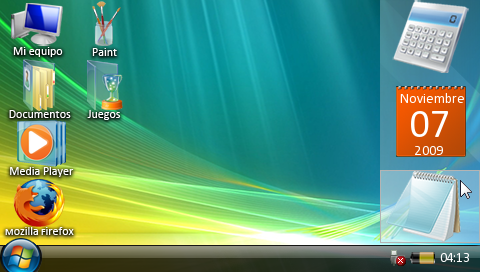 Compatiltbility
Ideal Firmware version for Cristal Vista Portable to work properly is 5.00m33-6.
Changelog
Version 7.0 DEMO
New graphics and sounds, redesigned and improved.
Increased load compatibility, including new Custom Firmwares and HBL support .
Greater speed and stability of the program, that you get an error when navigating through the shell is a thing of the past.
New window system, now you can open several windows, move them to your liking on the desktop, switch between them, minimize them, close them.
The Explorer has been improved, now it is controlled with the mouse and does not hang as it used to (to move up or down the list of files or directories, press L or R).
New music player , goodbye to the slow and cumbersome Coverflow, with the new music player three clicks will be enough to do everything you want with your songs.
New image viewer. Easier and more intuitive? Impossible! You can also select the image that you are viewing as your desktop background by just clicking on the central button.
Sidebar renewed, all the improvements you had requested have been heard: now there is an analog clock, a weather predictor that connects to the internet and an improved calendar.
Added the WiFi icon, it will tell you if there is a connection and its intensity.
Renewed start menu, now it is much more similar to Windows and easier to use. Unfortunately in the DEMO version all its functionalities have been deactivated .
Added a multilanguage system, now everyone can enjoy Cristal Vista 7.0 in their own language (DEMO).
Possibility of taking screenshots by pressing SELECT (if doing so an error appears to avoid it, you must have the PSP/PHOTOS/CVP folder created).
Version 251209CVP
Possibility of downloading and installing applications from the Official Website.
Smaller icons on the desktop.
Updated window and taskbar graphics (thanks to Loopin , Cristal Vista graphic designer from now on).
Improved graphics in "My Team".
Possibility of updating via WiFi thanks to the Carlosgs updater (Host by www.ellimite.org).
Possibility of executing a UMD from "My Team".
Added back to Desktop system when exiting an external application or game.
Fixed the bug in the start menu, now with a tap on the X button it is enough to open the menu.
Completely fixed the CoverFlow bug. Supports infinite songs.
Graphic effects added to Music Player (CoverFlow).
Added battery charge warning balloon. Displays a warning when putting the PSP to charge.
Added a new mouse control mode in Control Panel. Precise control.
Shell speed improved. It takes loading only at the beginning then it goes fast.
Fixed several memory bugs. Now you can use the shell for hours and no error will appear.
Improved internal structure of the program, more stable, faster and more comfortable.
Minesweeper issue fixed.
Version 031009CVP
Fixed the bug that did not allow the user to enter the Desktop.
Version 270909CVP
Optimized CoverFlow, now much more stable.
Possibility of accessing the official website of Cristal Vista (PSP version) from the Help Center.
Possibility to change the desktop background . There are 5 backgrounds available in addition to the transparent one.
Possibility of using Notepad (PSP NOTES).
Added calendar in Sidebar , shows the day , month and year .
Overall Shell stability optimized .
Version 250809CVP
Windows Vista-like installer.
Graphical environment similar to that of the Windows Vista Operating System.
The environment interacts with the user showing images or sounds.
Explorer file Memory Stick, Windows style (early stage).
Image viewer with extension .png, .jpg.
Cover Flow type music player (like iPod players) with the possibility of adding your own cover for viewing. Plays files with .mp3 extension.
Integrated image editor.
Simple calculator.
Internet browser using a graphical environment of Mozilla Firefox 2.0.
Displays basic information about the PSP.
Standard sets included.
It has a Control Panel from which you can configure the Shell.
It has a Help Center which will help to solve the doubts you have about the Shell.
Possibility of executing ISOs (the UMD driver must be configured to OE Isofs).
Possibility of running any type of Homebrew.
Possibility of updating online (Currently not available).
Possibility of installing extra applications and games downloaded from the internet.
Ability to put the PSP into sleep mode to save power when not in use.
Possibility of restarting and shutting down the Shell or going back to the XMB.
Fully customizable, you can customize the desktop background, the movement of the cursor, the speed of this etc.
Shows the time in real time, the battery level and has the possibility of connecting. - Cristal Vista to the PC via a USB cable.
External links