CommanDSKeen
From GameBrew
CommanDS Keen
General
Author
Alekmaul
Last Updated
2008/08/18
Type
Platform
Version
1.0
License
Mixed
Links
Download
Website
Source
CommanDS Keen is an adaptation of a PC platform game to the NDS. It is an adaptation of an open source software originally named CloneKeen Caitlin Shaw, which is a platform-based video game series produced by id Software and released by Apogee Software in the early 1990s.
7 official Commander Keen games have been released for PC under MS-DOS. They are grouped into mini-series, and are considered episodes of the complete series. Under the Apogee license, the first series was available as shareware. The 8th game in the series is only available on Game Boy Color.
This DS port allows you to play episodes 1 Marooned on Mars, 2 The Earth Explodes and 3 Keen Must Die! (only episode 1 is available in shareware and integrated into this homebrew).
Installation
Note: To play the real episodes, you must obtain the original datafiles (CK1 for episode 1, CK2 for episode 2 and CK3 for episode 3).
DLDI patch .nds file and put it on the root of your flash card.
If you want to install real episodes, copy all .CK* files in a directory and the .nds file in the same directory.
User guide
This homebrew has included the title Marooned on Mars (released in shareware on December 14, 1990), the 1st episode from the Commander Keen in Invasion of the Vorticons series.
You embody the character of Billy Blaze, an 8-year-old genius child with an IQ of 314; Billy Blaze has built a spaceship from various items he collected from his house, which he calls the Bean-with-Bacon Megarocket (literally the super bean bacon rocket); when his parents go out at night and his babysitter falls asleep, he dons his big brother's football helmet and becomes Commander Keen, the Defender of the Earth.
In this game, Keen has crashed his ship and has to recover the parts needed to make it work and go home. Advance through the enemies and obstacles to access the next area.
Supported files
Please make sure that all filenames are capitalized when you are installing the real episodes.
| Episode 1 | Episode 2 | Episode 3 |
| --- | --- | --- |
| CTLPANEL.CK1 | CTLPANEL.CK2 | CTLPANEL.CK3 |
| EGAHEAD.CK1 | EGAHEAD.CK2 | EGAHEAD.CK3 |
| EGALATCH.CK1 | EGALATCH.CK2 | EGALATCH.CK3 |
| EGASPRIT.CK1 | EGASPRIT.CK2 | EGASPRIT.CK3 |
| ENDTEXT.CK1 | FINALE.CK2 | FINALE.CK3 |
| FINALE.CK1 | LEVEL01.CK2 | LEVEL01.CK3 |
| HELPTEXT.CK1 | LEVEL02.CK2 | LEVEL02.CK3 |
| LEVEL01.CK1 | LEVEL03.CK2 | LEVEL03.CK3 |
| LEVEL02.CK1 | LEVEL04.CK2 | LEVEL04.CK3 |
| LEVEL03.CK1 | LEVEL05.CK2 | LEVEL05.CK3 |
| LEVEL04.CK1 | LEVEL06.CK2 | LEVEL06.CK3 |
| LEVEL05.CK1 | LEVEL07.CK2 | LEVEL07.CK3 |
| LEVEL06.CK1 | LEVEL08.CK2 | LEVEL08.CK3 |
| LEVEL07.CK1 | LEVEL09.CK2 | LEVEL09.CK3 |
| LEVEL08.CK1 | LEVEL10.CK2 | LEVEL10.CK3 |
| LEVEL09.CK1 | LEVEL11.CK2 | LEVEL11.CK3 |
| LEVEL10.CK1 | LEVEL12.CK2 | LEVEL12.CK3 |
| LEVEL11.CK1 | LEVEL13.CK2 | LEVEL13.CK3 |
| LEVEL12.CK1 | LEVEL14.CK2 | LEVEL14.CK3 |
| LEVEL13.CK1 | LEVEL15.CK2 | LEVEL15.CK3 |
| LEVEL14.CK1 | LEVEL16.CK2 | LEVEL16.CK3 |
| LEVEL15.CK1 | LEVEL80.CK2 | LEVEL80.CK3 |
| LEVEL16.CK1 | LEVEL81.CK2 | LEVEL81.CK3 |
| LEVEL80.CK1 | LEVEL90.CK2 | LEVEL90.CK3 |
| LEVEL81.CK1 | SAVED1.CK2 | SAVED1.CK3 |
| LEVEL90.CK1 | SAVED2.CK2 | SAVED2.CK3 |
| PREVIEW2.CK1 | SAVED3.CK2 | SAVED3.CK3 |
| PREVIEW3.CK1 | SCORES.CK2 | SAVED4.CK3 |
| PREVIEWS.CK1 | | SCORES.CK3 |
| SCORES.CK1 | | |
| SOUNDS.CK1 | | |
| STORYTXT.CK1 | | |
Story Ep.1-3
Billy Blaze is an eight-year-old boy genius who has constructed a spaceship in his backyard from old soup cans and other household objects, called The Bean-with-Bacon Megarocket. When his parents are out and the babysitter falls asleep, he dons his brother's Packers helmet and becomes Commander Keen, Defender of Earth.
In the first game, Keen is exploring on Mars when aliens steal four spaceship components that he must get back. The aliens are the Vorticon, a fierce dog-humanoid race that had an outpost on Mars. Keen travels through different martian cities, and eventually recovers all the missing parts.
But when Keen gets back to Earth, he finds the Vorticon mothership looming over the planet, with its cannons ready to attack. In the second game, Keen infiltrates the mothership and has to disable each of the Tantalus Rays targeting different Earth cities.
During this adventure, Keen learns that the Vorticons used to be a peaceful race, but were enslaved by the mysterious Grand Intellect.
After disabling the cannons, Keen travels to the Vorticon homeplanet, Vorticon VI. In the third game, Keen has to face the Vorticon masses in their cities, all ready to kill Keen. After fighting through many levels of Vorticon-infested cities and military installations, Keen arrives at the lair of the Grand Intellect. There he discovers that the leader of the Vorticons is actually his school rival Mortimer McMire.
Controls
D-Pad - Arrow keys
Select - Pause
Start - Select
L - Quit
R - Save
A - Key 1 and fire
B - Key 2 and jump
X - Key 3 and N and Q
Y - Key 4 and POGO and T and Y
Screenshots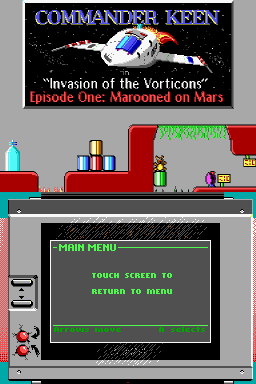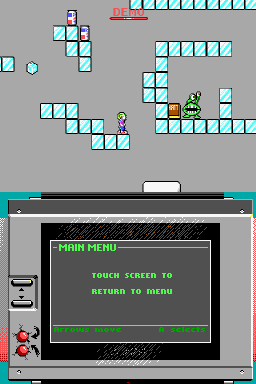 Compatibility
Developer advised the homebrew does not work on MK5 due to the lack of memory.
Known issues
Problems with the sound. Sprites have a blinking pb.
Changelog
V1.0 2008/08/18
External links