Chronoclon
From GameBrew - a wiki dedicated to Video Game Homebrew.
Chronoclon
General
Author(s)
jubei867 (Steffen Just)
Type
Platformer Puzzle
Version
0.3
Licence
Mixed
Links
[EFS and no EFS Download]
Website

Chronoclon is a remake of the PC Puzzle Platformer Chronotron from Scarybug Games.
Installation
This homebrew comes with 2 versions:
EFS version - Contains all game data within the ROM and only user data (saves, custom maps, etc) will be located in the Chronoclon folder.
Compatibility version - Contains some game data in the Chronoclon folder. The advantages of the normal EFS-version are easier to install and possibile to update newer versions.
To install, DLDI patch .nds file and copy it anywhere on flashcart.
Copy the data folder to the root of your homebrew device (flashcart).
Updating old versions:
EFS version - When using the normal Version, copy the Chronoclon.nds file anywhere on homebrew device.
Compatibility version - Before following the Fresh Installation guide, delete the efsroot folder located in the Chronoclon folder of your old installation (this step is not necessary, can also overwrite all existent files, but it may leave unnecessary files on flashcart behind).
User guide
Take control of a robot who has to handle the paradoxes of time travel. Interact with past versions of yourself to solve puzzles and make it back to the time pod.
The game featured a level editor and the ability to share custom levels online which custom maps are available here.
Screenshots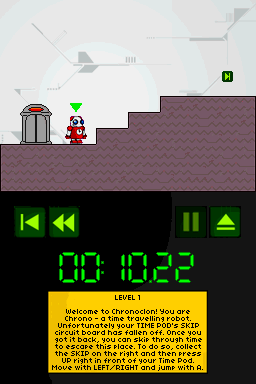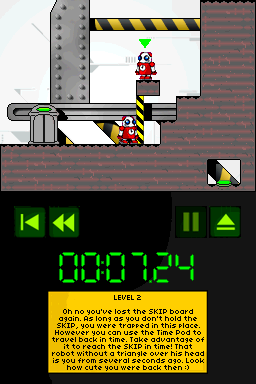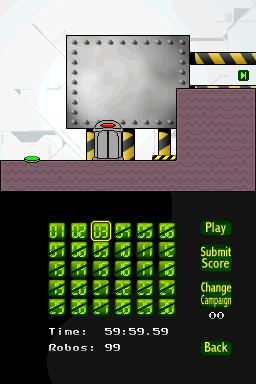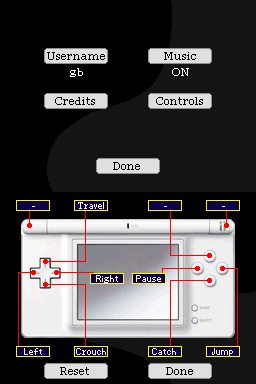 Media
Chronoclon preview 2 (chronoclon)

Changelog
v0.3
Added wifi functionality (share/rate custom maps, submit highscores).
Added an intro.
Changed & added some level-backgrounds.
Removed language selection.
Bugfix: moonwalking chrono.
Bugfix: gaining height on catapult.
Some menu layout/gfx changes.
v0.2
Replaced some graphics.
Activated the save-option in the level editor.
External links