Bouncy Marble
From GameBrew
Bouncy Marble
General
Author
leinad (n00bey)
Last Updated
2009/08/21
Type
Arcade Games
Version
2009
License
Mixed
Links
Download
Website
Bouncy Marble is an Icy Tower clone on the NDS. The game involves of jumping from one floor to the next and go as high as possible without falling and plunging off the screen.
This homebrew was submitted in NEO Spring Coding Compo 2009. Bouncy Marble V2 was ranked 6th in the NEO Summer Coding Compo 2009, Game section.
Features
Save and view game replays.
Online highscore list (TOP100) for all three categories.
Watch replays of online-highscores.
50 backgorund music to choose from.
Eye candy.
Installation
Download and extract file.
DLDI patch it and copy it to the root directory of the card.
Note: DLDI patch is used for saving highscores.
User guide
Your goal is to get as high as possible, score most points or get the biggest combo.
Best scores/floors/combos (5 each) are saved and will be displayed in the main menu.
Screenshots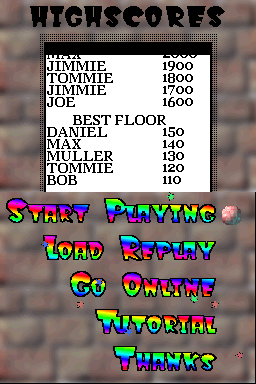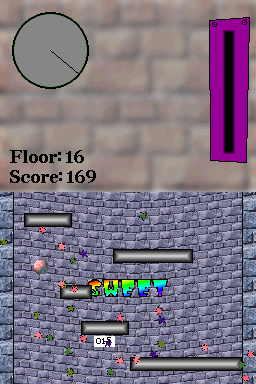 Media
Bouncy Marble Replay Demo (n000bey)

Known issues
In some earlier testing phase the music-player freezes from time to time. By double tapping a shoulder button (R or L) you switch to the next sound file.
External links