Bookr PSP by gtzampanakis
From GameBrew
bookr by gtzampanakis
General
Author
gtzampanakis
Last Updated
2015/03/23
Type
Other
Version
8.2.0
License
GPL-2.0
Links
Download
Website
Source
This is a fork of bookr version 8.1, a book reader for the PSP.
Features
Supports plain text, PDF, CHM, HTML, DJVU, PalmDoc documents.
Supports Greek language (for plain text UTF8 files).
Time remaining indication for the battery.
User guide
Right now Greek language support means that all files are read in UTF8 encoding but they are converted to ISO-8859-7 encoding internally. Supporting Unicode internally will take a while given the architecture of the code.
Since the internal encoding is hard-coded to ISO-8859-7 right now it means you will not be able to read languages which are covered by the ISO-8859-1 encoding (even though in the version I forked it was possible).
Check wikipedia for a list of those languages. Soon Uniocde will be used internally so all languages will be supported.
Controls
Triangle/Square - Next/Previous page
Cross/Circle - Next/Previous 10 pages
D-Pad - Screen up/down/right/left
R/L - Zoom in/out
Start - Menu
Select - Tools
Screenshots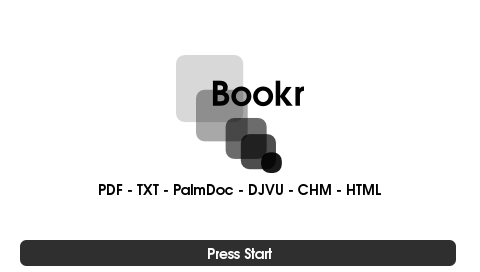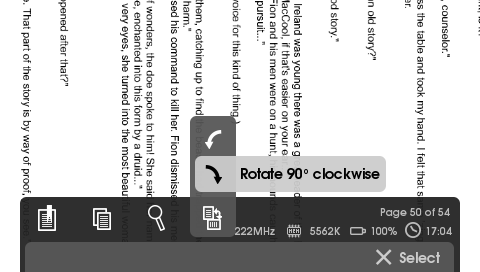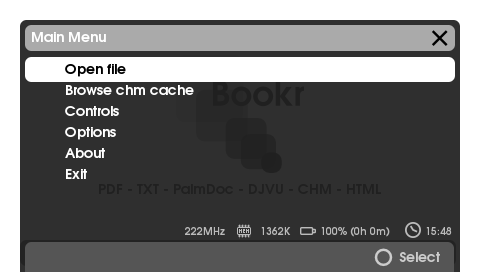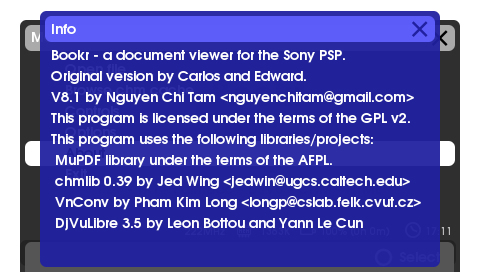 Changelog
v8.2.0
UTF8 loading works. Some libre fonts were added. "Time remaining" indication for the battery added.
External links