Blubb 3D
From GameBrew
Blubb 3D
General
Author
Qwärty
Last Updated
2007/03/22
Type
Board
Version
2007
License
Mixed
Links
Download
Website
Blubb 3D is a 3D battleship-type game in 3D in which you have to locate and destroy all the hidden enemies on the battlefield. It offers both offline and online play, Pictochat, DLDI support and more.
It was ranked 6th in the NEO Spring Compo 2007.
Features
Online Mode.
Single Player (non-cheating CPU-enemy, who know exactly what you would know).
Offline Multiplayer (Hot-Seat).
Pictochat.
Online Top-10.
The playerdata is saved on the server.
Dynamic calculated water surface with sphere mapping.
MD2 (quake 2 models) ships, with support for animations.
MOD-player (all credits for the MOD-player go to Deku-Tree).
Awesome music from HtheB.
A short tutorial.
DLDI FAT by chism.
Installation
Extract the contents of the folder to your FAT-compatible flash card.
Patch the binary with the proper DLDI patch if needed (this shouldn't be necessary for most cards, only patch if it doesn't work).
Blubb uses data/blubb/ for the data by default, this can be changed in the blubb.cfg if you want to.
User guide
Gameplay tutorial is included in the game.
Online Mode
Direct Connect:
Use this only for LAN-play, or if the blubb-lobby is unreachable.
The server has to forward ports 9999 and 10000 to his NDS (not necesarry for LAN-play).
The client needs the Servers IP.
Games played in direct-connect mode won't be saved on the lobby.
Lobby Mode:
Connect to the Blubb server, chat and play with NDS-homebrewers around the world.
The games played on the lobby will be saved.
You need at least three games plus one game per week registered on the Lobby (registering is done automatically at first connect).
Forwarding ports 9999 and 10000 isn't necessary for the Lobby-mode
However if you do the communication might be more stable.
Lobby Menu
Rd. Game - Play against a random player (you will accept invitations automatically).
Invite - Invite a user to a match.
Stats - Display statistics of a connected user.
Top Ten - Display the top ten (while viewing left/right changes the top10 type).
Exit - Leave the Blubb lobby and disconnect.
The users have a Letter in front of them, showing their status:
P - Private, doesn't automatically accept.
O - Open (RD-Game).
(...) - Away playing (those users won't receive any lobby-messages).
Controls
Basic:
Button - OK/Confirm (in game and menu)
B - Back, Cancel (in game and menu)
D-Pad - Move through water, Select missile area
R/L - Rotate left and right perspective
Pictochat:
X/Y - Un/redo
Buttons above message-window - Message forward/backward, Zoom-out
Screenshots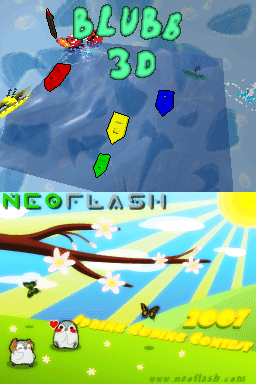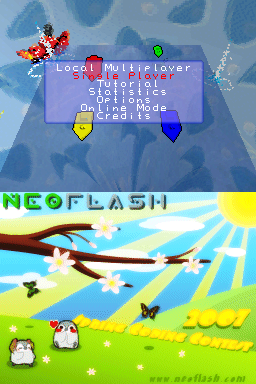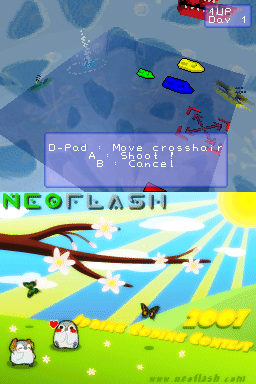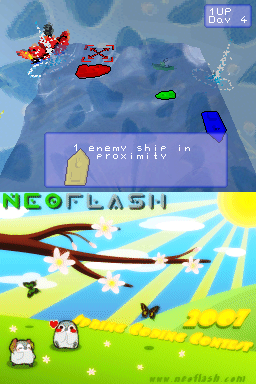 Media
Blubb 3d Gameplay Gameplay Video (short) (qw3rty543212345)

Blubb 3d Gameplay Video (longer) (qw3rty543212345)

Compatibility
Works on R4DS Original (firmware 1.19u).
Changelog
2007/03/25
Draw-Routine is called in V-Blank now – that should make the drawing fluid regardless of the 3D's framerate.
Included output of SGIP_errno when sending / receiving fails. that might help me bugfixing the communication.
Included animated ships (nothing to write home about – the 3d-Designer (me) sucks…)
Fixed the slow-down when many "move-markers" where shown (e.g. moving the green ship) – the game should run constantly at 60 FPS now.
External links