Bakudan
From GameBrew
Bakudan
General
Author
MeRAMAN
Last Updated
2007/11/22
Type
Puzzle
Version
0.6
License
Mixed
Links
Download
Website
Bakudan is a port of BAKUDAN for MSX by GANE, origanially published in the final issue of MSX-FAN (1995/8). It is one of the different variant of tetris and there are 4 types of bombs in total in this version.
Installation
Download and extract file.
DLDI patch it and copy it to the root directory of the card.
Note: When Game Over is displayed, High Score would be automatically recorded as nds_bakudan.ini in the root directory of the micro-SD and is readable at the start of the game.
User guide
The goal is to eliminate all the the bombs according to the following rules:
Bombs lined up side by side fall from the top of the screen.
You can ignite one of the 8 bombs at the bottom with a match.
8 bombs of the same color around the ignited bomb will explode in a chain reaction.
If the accumulated bombs pile up to the top of the screen, the game is over.
There are 4 types of bombs in this game.
Controls
Play with Stylus.
Screenshots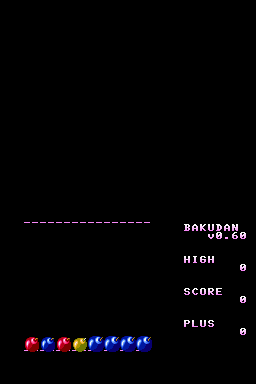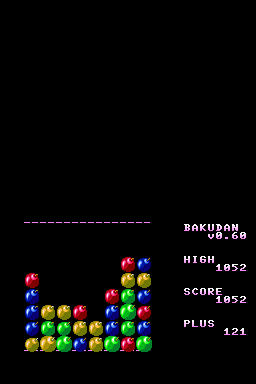 Compatibility
Tested on TTDS/Top Toy DS (firmware 1.17a12).
Changelog
0.60
Record HIGH-SCORE on microSD.
BGM & SE driver upgraded to v0.70.
Minor corrections such as explosion animation.
External links