Anime Jo All-Star Kirifuda Taisen
From GameBrew
Anime Jo All-Star Kirifuda Taisen
General
Author
Multiple:Option
Last Updated
2009/03/19
Type
Card
Version
2009
License
Mixed
Links
Download
Website
Anime Jo All-Star Kirifuda Taisen (Anime Girls All-Star Trump Battle) is a card game based on Top Trumps. Battle your way through eight opponents to victory in this simple but memory-testing card game. Featuring character art and music from over 12 anime series, including Lucky Star, Code Geass, Gundam, Evangelion and Macross Frontier.
It was an entry to the NEO Spring Coding Compo 2009, ranked 9th in the Game section.
Features
Two game modes.
Rumble Pak support.
Hold the DS book-style.
Character art, music from over 12 anime series.
Installation
Download and extract file.
DLDI patch it and copy it to the root directory of the card.
User guide
Rules
Choose one of 6 stats from current card. The stat is compared with opponent's card:
Your card is higher - You take the opponent's card, and continue playing with the next card in your deck.
Your card is lower - Your opponent takes your card, and you lose your turn.
A draw - You may select another stat until a result occurs.
Win the match by taking all of your opponent's cards.
Special Reveal Attacks (SP):
Using an SP will reveal the opponent card's stats, allowing you to pick accordingly.
You get 3 SPs at the start of each match, and you can gain more by choosing a stat that wins by 1.
Game modes
In Arcade Mode, the deck is 20 cards (10 cards each).
In Story Mode, the deck is 30 cards (15 cards each). This game will auto-save your progress through Story Mode.
Controls
Stylus only (hold the DS book-style).
Screenshots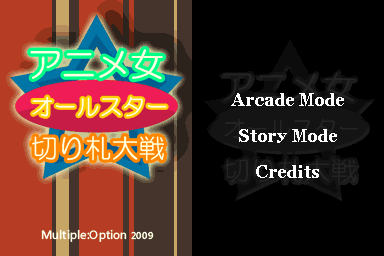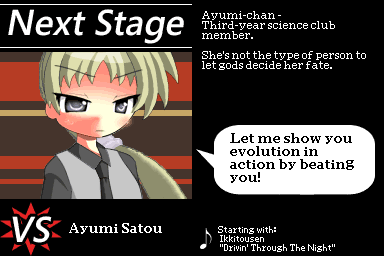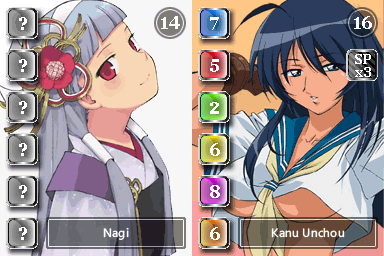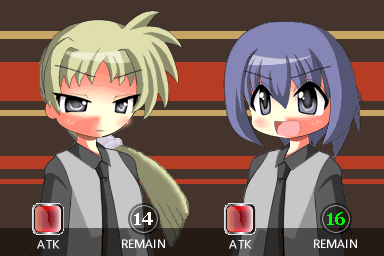 Media
Anime Jo All-Star Kirifuda Taisen (multipleoption)

Compatibility
Requires a DS and a flash cart, such as an R4. No$GBA is recommended if using an emulator.
Credits
Developed with PALib & EFS.
Character Art by khmix.sakura.ne.jp.
Button Graphics by bittbox.com.
Card Art and Music from The Melancholy of Haruhi Suzumiya, Macross Frontier, Neon Genesis Evangelion, Vocaloid, Code Geass, Ikkitousen, Lucky Star, Kannagi, Strike Witches, Mobile Suit Gundam 00, Fate/stay Night, Tengen Toppa Gurren Lagann, Mobile Suit Gundam SEED, Toradora.
Additional Music and SFX from The King of Fighters 98, SNK vs Capcom: Chaos, SNK vs Capcom: Card Fighters DS, Final Fantasy IV.
External links