AmplituDS
From GameBrew - a wiki dedicated to Video Game Homebrew.
AmplituDS
General
Author(s)
Sander Stolk
Type
Rhythmic Shooter
Version
4.0
Licence
Mixed
Links
Download
Website

AmplituDS is the first project by Sander Stolk for the NDS, It is a homebrew game that features music and which is also being used as gameplay element. This game is actually based on the gameplay of Amplitude for the PlayStation 2, from the creators who also made Guitar Hero later on.
Features
Awesome gameplay.
With sweet music.
Highscores are used for unlocking.
Greatly enhanced looks and feel.
Support for a lot of flashcards due to using DLDI.
The ability to insert own music and/or target-layout.
Check the stage creation tutorial section below.
Installation
Download the zipfile for AmplituDS and unzip it.
The amplituds folder needs to be placed on your media-card. Not necessarily in root anymore like v3; AmplituDS will search for the folder on your card as of version 3.1.
DLDI patch amplituds.nds or amplituds.ds.gba (whichever you want to use) and put it anywhere on your media-card.
New stages are uploaded on the offical site's forums, which are free to download and add into AmplituDS.
User guide
FAQ
Q. Why am I getting "FAT could not be initialized"?
You probably forgot to patch the .nds file with DLDI. See the setup section of this readme. If you did patch, it seems your DLDI doesn't work correctly with AmplituDS.
Q. Why an I getting "Could not find amplituds folder"?
You probably forgot to put the amplituds folder on your media card. If you -did- put it there, make sure it's stored on root and see if that helps. AmplituDS can only find the folder if it's stored not deeper than 3 directories.
Controls
Left-handed and right-handed controls are available in the options menu. This switches the functionality between the D-Pad and the ABXY-buttons from the mentioned functionality below.
D-Pad or Touchscreen - Left/Right (the ship automatically moves forward)
L - Shoot targets on the left
X - Shoot targets in center
R - Shoot targets on the right
Y - Powerups
Start - Exit game, Exit results menu
Screenshots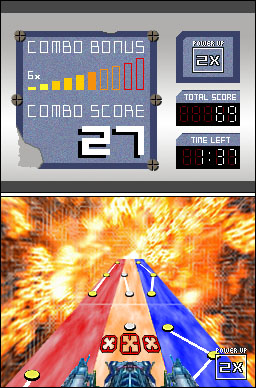 Media
Two movies are currently available.
Changelog
4.0
A new and improved way of adding worlds and stages. With the ease of dropping in a folder.
New layouts and settings formats (made easy by a converter created by Aaron).
Making hitting the targets more visual.
Create several new looks for targets.
Freestyle possibly working in menus; thanks to Dementedioser.
Instruments marked to be played in the background could fail; thanks to Aaron.
Wrong menu option highlighted for 1/30th of a second when going to a new menu; thanks to Aaron.
Scoring inconsistency when using autoblaster in certain situations; thanks to Aaron.
v3.1
Approximately twice as fast start up time.
Anti-aliasing used for 3D graphics.
The targets are not missing sections anymore.
The 'amplituds' folder does not need to be placed in the root of your media card anymore, it is searched for. Meaning you can have it as a subfolder of a "data" folder on your card for example.
Max-Media Dock users should not have to set their clock to 00:00 anymore (untested).
Credits
retrohead, tssf, LDAs DevilSpawn, tepples Chris Huelsbeck, Chris Hampton, Little Elk, Milan Kolarovic (acumen), Aaron, creators of libmikmod, creator of SylphDS(ficedula), creators of libnds and devkitpro (wintermute and dovoto), creator of DLDI (chishm).
External links