Abstract Shoot
From GameBrew
Abstract Shoot
General
Author
Neumann
Last Updated
2007/07/31
Type
Shooter
Version
0.9 Beta
License
Mixed
Links
Download
Website
Abstract Shoot is a DS homebrew shooting game inspired by the Flash Game Abstract Sea.
Installation
Download and extract file.
DLDI patch it if needed (if your card does not have auto-patching) and copy it to the root directory of the card.
User guide
Find various power-ups (life, triple shot and bomb) and shoot everything that moves while avoiding projectiles.
Controls
Stylus - Aim and shoot
D-Pad or A/B/X/Y - Move cannon
L/R - Change music (theme 1/theme2/off)
Start - Pause
Screenshots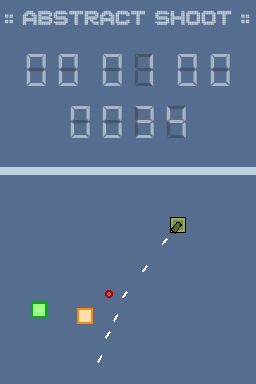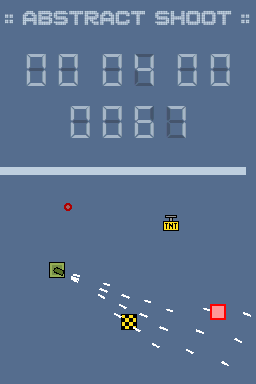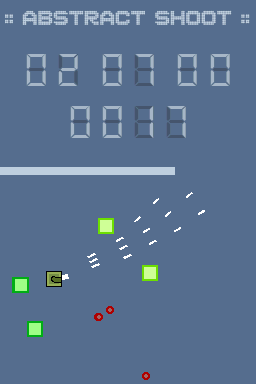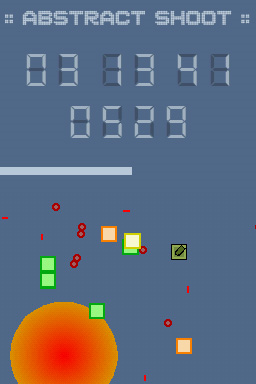 Compatibility
Tested on iTouchDS (firmware 3.8).
Changelog
Version 0.9 BETA 2007/07/31
Added High-score system (requires DLDI patching to work).
Added a menu.
Enemies have new trajectories that make the game harder and less monotonous (they are not automatically drawn to the cannon).
Modification of the 'bomb' bonus: from now on, the bomb is activated by a detonator placed relatively far from the bomb. The bonus is therefore 'useful' now.
Added music and sound effects.
Version 0.8b BETA 2007/07/19
Fixed score related bugs.
Decrease in difficulty.
Version 0.8 BETA 2007/07/18
Added 2 musical themes and sound effects.
Added power-ups (life, triple shot and bomb).
Effects of explosions and slight graphic changes.
Various bug fixes.
Version 0.5 BETA 2007/07/12
Added information on the top screen (time, score, life bar).
The enemies are of two different types (slow / fast with more or less health; and they throw projectiles).
The cannon is now mobile.
gfx improved.
Version 0.1 BETA 2007/07/07
First demo with stationary cannon (took 2 days before seeing that we could move the cannon in Abstract Sea) hard coded.
External links