100 Boxes 2DS
From GameBrew
100 Boxes 2DS
General
Author
Cid2mizard
Last Updated
2015/03/21
Type
Puzzle
Version
1.1
License
Mixed
Links
Download
Website
Source
100 Boxes 2DS is a 3DS homebrew puzzle game, a remake of the 100 Boxes puzzle from Kyoufu Kawa available on DS and GBA.
Installation
Available in CIA, 3DS and 3DSX/SMDH formats.
3DSX - Use the .3dsx provided with the Homebrew Launcher.
CIA - Copy .cia to your SD card and install it with the CIA manager of your choice.
3DS - Copy .3ds to your SD card.
User guide
The goal is to fill all the boxes of a 10x10 grid.
If you move horizontally or vertically you must skip 2 boxes.
If you move diagonally you must skip 1 box.
Controls
Touchscreen or D-pad+A - Discover Case
B - New Game
Select - Exit
Screenshots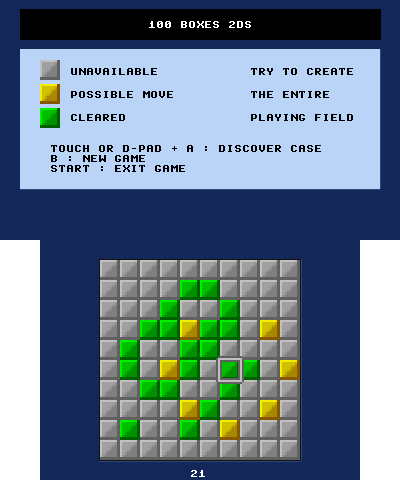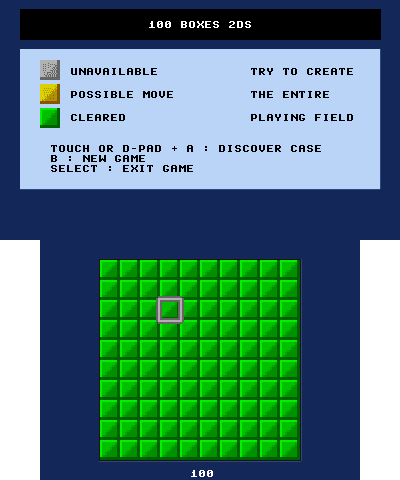 Changelog
v1.1
Update ctrulib, now exit works with ninjhax 2.5.
Change START to SELECT button for quit game.
v1.0
Add topscreen infos game.
Update smdh icon.
Update readme.
Tiles are bigger (16px to 20px).
v0.1
Credits
Thanks to:
smea for Ninjhax.
smea, yellows8, plutoo, fincs and mtheall for ctrulib.
smea, mtheall, GEMISIS, Fluto and Arkhandar for hbmenu.
WinterMute for devkitARM.
http://gbatemp.net for Forum 3DS Homebrew community.
External links