Loonies 8192 3DS
From GameBrew
Loonies 8192
General
Author
thp
Last Updated
2021/07/09
Type
Puzzle
Version
r66
License
Mixed
Links
Download
Website
Loonies8192 is a mini retro puzzle game for DOS, PSP, 3DS, GBA, PSX, Android, NDS, Win32, N800, N900, N9, PocketCHIP, iOS, macOS, Vita and WebGL.
This simple puzzle game at some point fit into 8 KiB, hence the name. Since then, the focus has shifted to porting and support for various audio synths.
Installation
Copy the both .3dsx and .smdh files to /3ds/Loonies8192/ on the SD card, creating folders as necessary.
Then run it with the Homebrew Launcher.
User guide
How to play
There are 2x2-blocks falling down the top, with two different colors. The objective is to rotate and align the falling groups of blocks to create squares of the same block color once the blocks have landed.
A vertical line, known as the time line, sweeps through the playing field from left to right, erasing any completed single-color groups of blocks that it touches (typically 2×2 squares).
Sound Pack
By default, Loonies 8192 has synthesized sound built in, but it's possible to also use CD-quality audio files.
Download the Loonies 8192 Sound Pack, and put the WAV files in the game folders for 3DS to upgrade your sound experience to fully sampled 16-bit audio.
Configuration
There's in-game help now on how to play the game.
You can configure the language (English, German and French), soundtrack and difficulty level in the options menu.
Controls
Left/Right/Down - Move block
Up - Rotate block
A - Accept, Drop
Start - Exit, Abort
Screenshots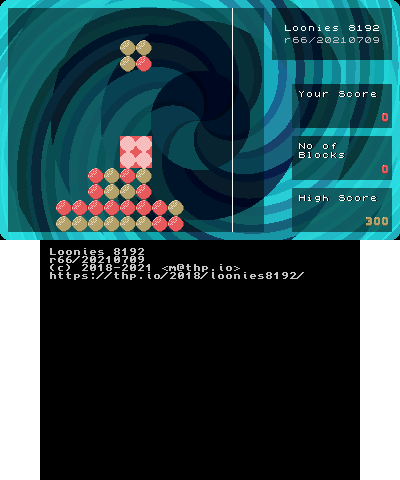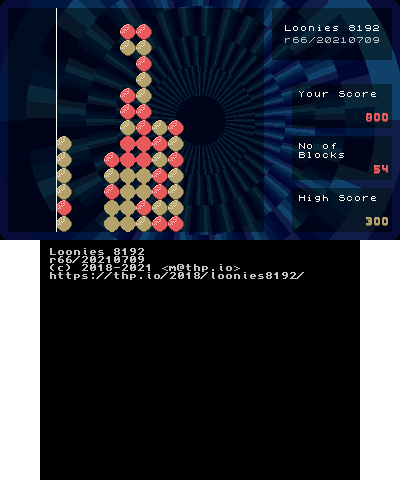 External links