Loonies 8192 DS
From GameBrew
Loonies 8192 DS
General
Author
thp
Last Updated
2021/07/09
Type
Puzzle
Version
r66
License
Mixed
Links
Download
Website
Loonies8192 is a mini retro puzzle game for DOS, PSP, 3DS, GBA, PSX, Android, NDS, Win32, N800, N900, N9, PocketCHIP, iOS, macOS, Vita and WebGL.
This simple puzzle game at some point fit into 8 KiB, hence the name. Since then, the focus has shifted to porting and support for various audio synths.
User guide
There are 2x2-blocks falling down the top, with two different colors. The objective is to rotate and align the falling groups of blocks to create squares of the same block color once the blocks have landed.
A vertical line, known as the time line, sweeps through the playing field from left to right, erasing any completed single-color groups of blocks that it touches (typically 2×2 squares).
Controls
Left/Right/Down - Move block
Up - Rotate block
A - Accept, Drop
Start - Exit, Abort
Screenshots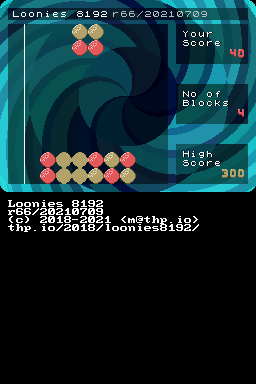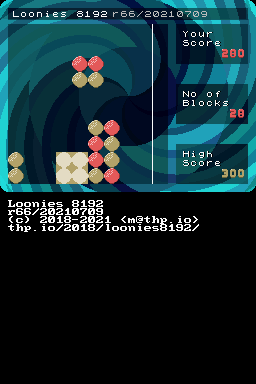 External links