Zenit
From GameBrew
Zenit
General
Author
best_guitar
Last Updated
2009/11/30
Type
Shooter
Version
0.71
License
Mixed
Links
Download
Website
Zenit (Spanish) is an original vertical scrolling action shooter for the NDS.
Features
3 levels.
Ability to achieve improvements of enemies (wave rays, lasers).
HSpace (method of transporting the ship by pausing time).
User guide
Working your way defeating all ship that would take precedence to the destination. You will encounter stronger and larger enemy ships with just a few lives available.
Weapons
Types of shots (from high to low):
Hoops> Bow> Target Ball> Blue Shot> Yellow Shot> Torpedo.
HSpace
Hyperspace will allow you to pause time and teleport the ship to any location on the screen.
When Hyperspace is activated, you have 5 seconds to reposition the ship with the Stylus. If the new location was not appointed after 5 seconds, the ship will appear in a random place.
When passing the phases, 2 hyperspaces and 1 extra life will be given away.
Controls
D-Pad - Move ship
A - Torpedo Shot (unlimited)
B - Shoot alien weapon (obtained from enemy ships and are limited)
Y - Activate Hspace
Start - Start game
Screenshots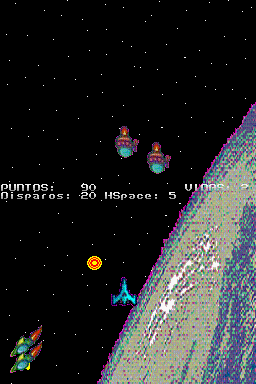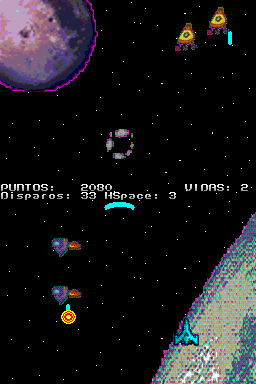 Compatibility
Tested on Supercard DSONEi (firmware 3.0).
Known issues
Sometimes after seeing the credits, the application crashes when pressing start (while testing on no$gba emulator).
Changelog
Version 0.71
Changing EFS architecture, so it might take a while to load.
Changes in IA.
Effects of explosions.
Chart records.
Credits.
More phases.
Division shots into two types.
Hspace (hyperspace).
Other minor changes.
External links