XPOT2 GBA
From GameBrew
XPOT2
General
Author
SaTa
Last Updated
2004/08/03
Type
Media players
Version
2.10
License
Mixed
Links
Download
Website
Source
XPOT2 (Japanese) is an ADPCM audio player for the Game Boy Advance. Comes with a converter (WAV - ADPCM).
Features
ADPCM player.
Calender.
RTC setting.
Suspend.
User guide
ADPCM player
Any WAV file can be converted and played:
Input file format - WAV 44kHz STEREO 16bits PCM.
Converted file format - PCM 22kHz ADPCM(4bits) MONO (about 1/16 of the WAV file).
Limitation:
Total PCM capacity after conversion must not exceed 31MB, which is around 500MB in WAV format.
File name restrictions for WAV files - Up to 30 bytes (excluding path, including ".wav").
How to use:
Extract archive and put your .wav files next to mk_XPOT2.bat.
Run mk_XPOT2.bat, XPOT2_01.gba is output.
Calender
It's a normal calendar. Public holiday support since 2004.
The display is synchronized with the clock (RTC).
Without a clock (RTC), it might not make much sense.
Suspend
Suspend the app without turning off the power.
Controls
D-Pad - Move, Forward (audio player)
A - Select
Start+Select - Resume from suspend mode
Screenshots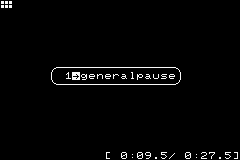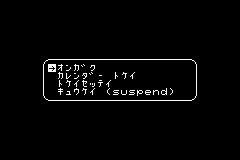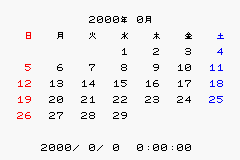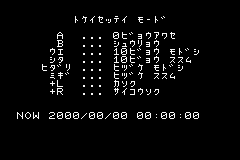 External links