Without Escape
From GameBrew
Without Escape
General
Author
PacoChan
Last Updated
2011/10/11
Type
Adventure
Version
1.4 Final
License
Mixed
Links
Download
Website
Without Escape is a horror graphic adventure for DS that mixes touches of Resident Evil and Silent Hill. This homebrew is a point and click adventure game, which consists of clicking on the scenarios to examine and collect objects, view tracks, go to other rooms, etc. It is available in English, Spanish, French and Italian.
It was participated in the Scenery Beta 2011.
User guide
In the game you wake up because you hear some strange noises and get up to investigate. But you will notice that everything is even more rare than initially thought and find the explanation for these strange events.
Controls
Stylus - Click for different actions
Screenshots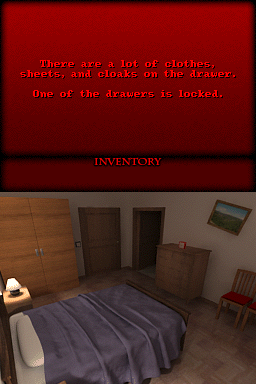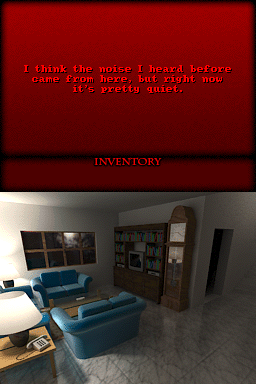 Compatibility
Tested on:
NDSTT/Top Toy DS (firmware 1.15)
Supercard DSTWO (firmware 1.11)
Real M3 (unknown firmware)
Original R4 (firmware 1.17, 1.18 and 1.19)
ITouch DS (firmware EUR 2.4)

Changelog
V1.4
Added French translation.
Corrections in the English translation.
V1.3
Added English translation.
Fixed small bug when loading with the last language you used.
V1.2
Some backgrounds have been improved
Support for saving and loading game has been added.
Less flickering when loading funds.
Added Italian language.
V1.1
The bugs that were when used in flashcard have been fixed.
V1.0
The story is completed.
Backgrounds have been improved and re-rendered.
The font has been improved and the dialogs have been changed.
Multi-Language support has been added.
Beta 2
Added source of variable width.
Optimized amount of RAM used some variables.
Beta 1 fixed 2
Corrected some typos in the VRAM that could display graphics defective.
Beta 1 fixed
Fixed several bugs in which could get infinite objects and arranged a few messages.
Beta 1
External links