WintenDos
From GameBrew
WintenDoS
General
Author
Darkyesus, Niidhogg (Yann), Loran531, Manga-DS
Last Updated
2009/08/20
Type
Operating systems
Version
3.0
License
Mixed
Links
2.05 & 3.0 Download
Website
WintenDoS is an application which attempts to recreate the Windows operating system for the Nintendo.
The latest version 3.0 and other previous versions are in french where only Version 2.05 was in English.
Wintendos XP was submitted to the NEO Summer Coding Compo 2008. Version 3.0 was released as an entry for the NEO Summer Coding Compo 2009 (ranked 10th in APP section).
Features
Minesweeper.
Mouse.
Keyboard.
Credits.
Notepad.
Calculator.
The Time.
Music of Windows.
Shutdown, Restart or Standby WintenDoS.
Screenshots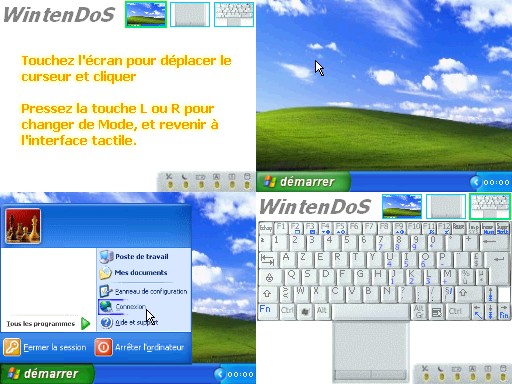 Media
Windows XP on a Nintendo DS... Kinda (WintenDoS XP Demo) (Michael MJD)

Changelog
Version 3.0
Sometimes you have to take a step back to move forward.
Version 2.05
Thank edu69 provide this update to the forum for this purpose.
Improvements to the aesthetics and recurred some bugs in the inner workings of homebrew, although some still remain to be corrected.
Also this version is in English.
External links