Wildlife Greenhouse
From GameBrew
Wildlife Greenhouse
General
Author
SimplexProductions
Last Updated
2011/09/11
Type
Other Apps
Version
2011
License
Mixed
Links
Download
Website
Wildlife Greenhouse is a DS homebrew application that contains guide for any enthusiastic camper who wishes to really dip their feet into the wild.
It was participated in the NEO Flash Coding Compo 2011.
Installation
Download and extract file.
Put the ROM onto flash card via an SD card or external drive.
User guide
There are trivia facts throughout the guide on plants both common and mysterious to the average camper.
Equipped with a variety of edible plants, this guide will help to differentiate from the nasty shrubery across the temperate habitat.
Controls
Left/Right - Navigate through the Guide
Select - Prompt the Help, Controls menu
Start - Return to Main Menu
Motion kit (tilt to the left/right) - Navigate the guide to the left/right
Screenshots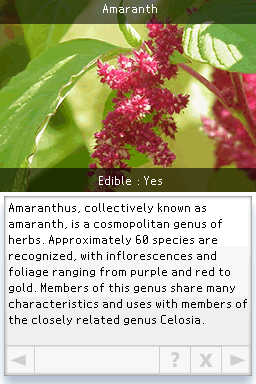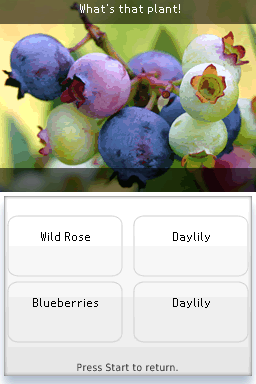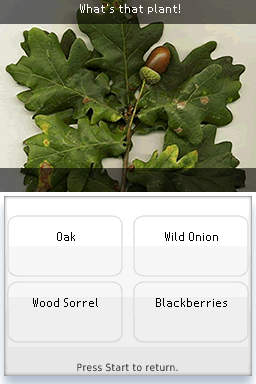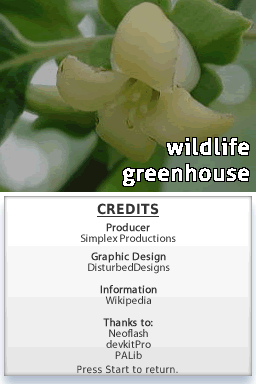 Credits
Producer: Richard "zhangzi89" Zhang.
Software Developer: Daniel "x711Li" Li.
Graphic Design: Jason "diSTurBedDeSIGNs" West.
Information: Wikipedia.
Thanks to: Neoflash, devkitPro, PALib.
External links