VGT Evolution PSP
From GameBrew
VGT Evolution
General
Author
Team VGT
Last Updated
2009/09/02
Type
Utilities
Version
1
License
Mixed
Links
Download
Website
VGT Evolution is a multifunctional homebrew which has an interface similar to MacOS. It is available in Spanish and English.
This is an entry from the Scenery Beta 2009 (PSP Applications).
Features
Included in the EBOOT.PBP: Images and MP3 sounds.
Cursor mode.
Possibility of selecting two different themes, exclusively designed by Team VGT.
Mac style bar.
Transition effects between windows.
Language loaded based on the one defined in the XMB.
Extended scrolling between window options.
Indicator for scrolling between options.
Scroll and blink messages on questions and information.
In case the respective PRX (modules) are not with the EBOOT, the application will not start.
Installation
Copy the VGTEvolution folder to ms0:/PSP/GAME/.
User guide
Note: Flashers or features that require alterations in the flash of the device can brick your PSP. Please backup your important data accordingly and use with caution.
You will find an information bar on the top of the screen, and a task bar at the bottom for selecting tasks that you would like to perform.
Information bar
From left to right:

User.
Percentage.
Battery status.
Degrees Celsius.
Task bar
VGT menu:

Language change in real time.
Theme change in real time.
Screenshot.
Exit to the XMB.
Restart PSP.
Turn off PSP.
USB connection:

Memory Stick.
flash0.
flash1.
flash2
flash3.
Free up space:

Backup files.
Free up space.
Restore files.
Backup:

nand.
ipl.
flash0.
flash1.
flash2.
flash3.
Flasher:

THEME 1.
THEME 2.
THEME 3.
THEME 4.
THEME 5.
XHide File (hide):

Folders: PICTURE. PSP/PHOTO. MUSIC. MP_ROOT. VIDEO.
Files (1 level): PICTURE. PSP/PHOTO. MUSIC. VIDEO.
Pixelizer:

Identify vague pixels.
Repair mode 1 (RGB).
Repair mode 2 (RYB).
Stopwatch:

Start.
Pause.
Stop.
Restart.
Update Version:

Backup version.txt.
Restore version.txt.
Update version.txt to:

5.00.
5.02.
5.03.
5.50.
5.51.
5.55.
Battery:

Normal battery.
Battery service mode.
Autoboot battery.
Dump eeprom.
Restore eeprom.
Additional notes
It is recommended not to use the functions in relation to the flash0 in ChickHEN.
All backup and file management are created in /PSP/GAME/VGT Evolution/.
The themes must be put as single files inside /PSP/THEME/THEME1/ or /THEME2/ or /THEME3/ etc.
It is strongly recommended not to use the battery tools on PSP-2000 or PSP-3000, in order not to damage it.
Controls
D-Pad - Move between options
Cross - Select option
Select (main menu) - Display VGT menu
Select or Circle (VGT menu) - Return to main menu
Screenshots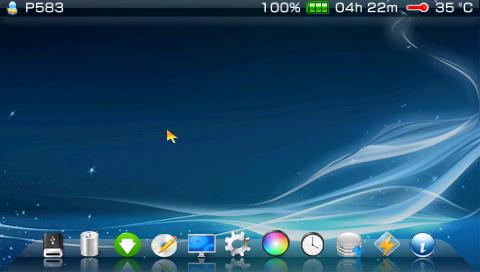 Media
VGT Evolution CFW PSP Homebrew (Rob Papallo)

Compatibility
Not recommend to use in ChickHEN (Flash0 options in particular), and on PSP-2000 or PSP-3000 (for its battery features).
Known issues
The minimize button has been suspended in v1.0.
External links