Twist DS
From GameBrew
Twist
General
Author
Mollusk,Daydream
Last Updated
2009/06/27
Type
Action
Version
2007
License
Mixed
Links
Download
Website
Twist is a remake of the classic game helicopter, in which you have to fly a helicopter up and down in a cavern, while avoid hitting the walls. A new feature, where the whole world turns, is added to the game to make it more challenging.
It was participated in the NEO Spring Coding Compo 2007.
Features
Thoroughly enjoyable game for everyone.
Constantly switching camera.
Touch Control.
Includes some items during the trip.
User guide
Lead a guy with a jetpack in a cave trying to stay on track and not bumping into walls.
You lose energy when you hit the wall, collecting E bonus will restore a small amount of energy.
Controls
Stylus - Move
Screenshots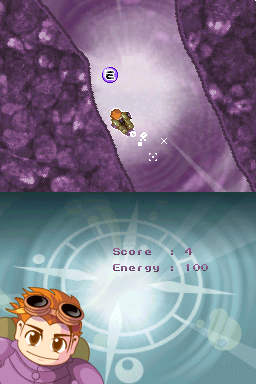 Credits
Code by Mollusk, graphics by Daydream.
External links