TuneItDS
From GameBrew
TuneItDS
General
Author
SimplexProductions
Last Updated
2011/08/21
Type
Music Apps
Version
2011
License
Mixed
Links
Download
Website
TuneItDS is a homebrew application for tuning guitar using your NDS.
It was submitted to the NEO Flash Coding Compo 2011.
Installation
Download and extract file.
Put the ROM onto flash card via an SD card or external drive.
User guide
It is equipped with 14 different tuning styles and the interface to find in a modern guitar tuner.
Controls
Up/Down - Move the selected string
Left/Right - Change the tuning style
Stylus - Select a specific string
It supports DSMotion card, tilt your DS Forward/Backward/Left/Right to emulate the effects of the Up/Down/Left/Right physical inputs, respectively.
Screenshots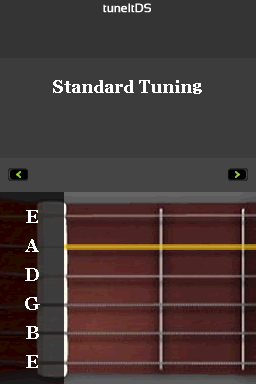 Credits
Producer: Richard "zhangzi89" Zhang.
Software Developer: Daniel "x711Li" Li.
Graphic Design: Jason "diSTurBedDeSIGNs" West.
Thanks to: Neoflash, devkitPro, PALib.
External links