Trash Rally DS
From GameBrew
Trash Rally DS
General
Author
Ben2303
Last Updated
2005/09/08
Type
Racing
Version
0.7a
License
Mixed
Links
Download
Website
Source
Trash Rally DS is a retro rally homebrew game for the Nintendo DS.
User guide
Control a race car while avoiding enemy cars. You lose lives if hit into objects.
Screenshots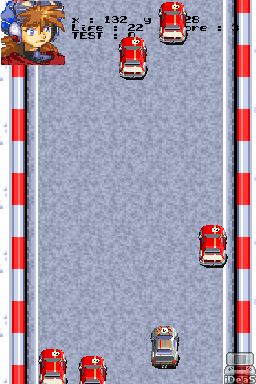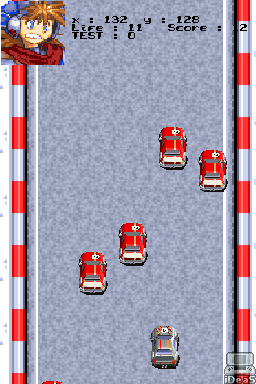 Compatibility
Tested on Emulator DualiS.
Changelog
0.7a Demo
Instead of making important gameplay changes, added a driver face giving the life status.
Some code dirtying for now, need that to make some cleaning later.
0.7 Demo
Enemy cars randomly appears at random speed.
Code cleaning.
Barrel is still broken, sprite is mixing with red car for no obvious reason.
Level system is still broken too, backgrounds are not displayed when enabled for no obvious reason too.
Tests made on DualiS.
0.6 Demo
Collisions are back. For now you loose life when driving over another object, will add bump later.
Even more code cleaning and scalability added.
Red ennemy cars number depending on level.
External links